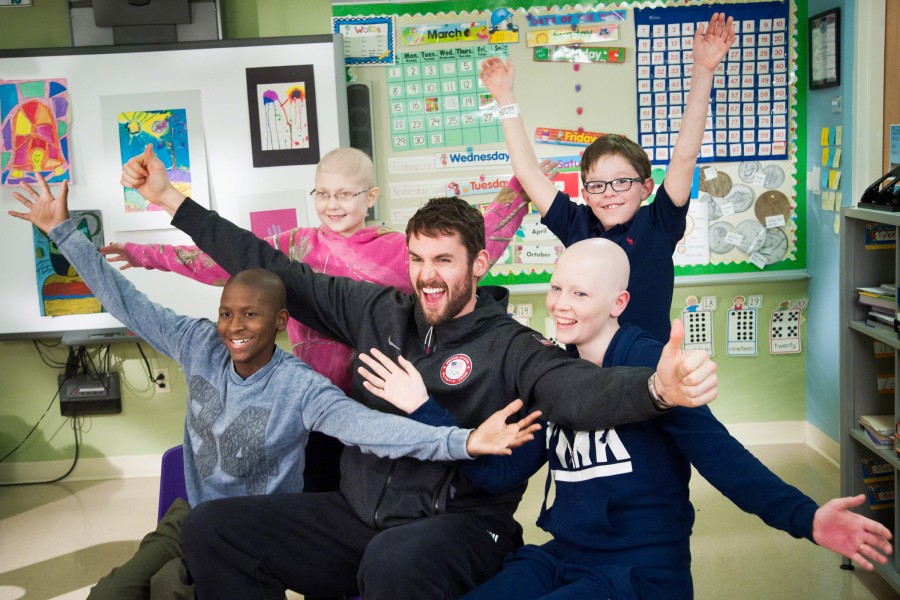 The NBA family will once again come together during Hoops for St. Jude Week™ April 3-9 to raise awareness of  St. Jude Children's Research Hospital's®lifesaving work and celebrate the league's long-standing support of the world-class hospital. The support of NBA stars, coaches, broadcasters and fans helps St. Jude continue leading the way the world understands, treats and defeats childhood cancer and other life-threatening diseases.
Hoops for St. Jude Week™ highlights the work and successes of St. Jude through online, social media and in-game promotions, such as hosting and highlighting local patients in-arena. NBA coaches and national sports broadcasters will also wear St. Jude lapel pins to show solidarity during games. Fans can get involved by becoming a St. Jude Fan for Life, and be automatically entered to win one of 30 team jerseys autographed by NBA stars. Supporters are encouraged to watch and share the fun videos created by campaign supporters Kyle Lowry (Toronto Raptors), Gordon Hayward (Utah Jazz) and Vince Carter (Memphis Grizzlies) highlighting the St. Jude Fan for Life campaign.
St. Jude ambassadors – players and coaches who contribute to and regularly visit the hospital and encourage fans to support patients, and their families at St. Jude – will also use their social media channels, personal appearances and interviews to help raise awareness of St. Jude and its mission to save the lives of children battling cancer and other life-threatening diseases.  
"The support of the entire NBA family means the world to everyone at St. Jude Children's Research Hospital – whether players and coaches are visiting with patients or the team and NBA leadership are working to raise awareness of our work; this is a truly amazing partnership," said Richard Shadyac Jr., CEO of ALSAC/St. Jude Children's Research Hospital.
NBA support stretches beyond Hoops for St. Jude Week. Just this season, the hospital has hosted on-site visits by players, coaches and staff from the Chicago Bulls, Cleveland Cavaliers, Golden State Warriors, Los Angeles Lakers, Memphis Grizzlies, Milwaukee Bucks, New Orleans Pelicans, Oklahoma City Thunder, Phoenix Suns, Sacramento Kings, Toronto Raptors, and Utah Jazz.
The players' support – both financial and celebrity – helps in multiple ways. It will cost $885 million to run St. Jude in 2015, and 75 percent of those funds will be raised through individual contributions, with an average donation of just $34.Thanks to support generated through campaigns like Hoops for St. Jude Week, families never receive a bill from St. Jude for treatment, travel, housing or food – because all a family should worry about is helping their child live.
Player visits are an important part of the NBA relationship, and never fail to brighten the day of St. Jude patients, like Adam and Nick, who both have a passion for basketball, and had a special visit with Grizzlies players Mike Conley and Marc Gasol in the St. Jude Teen Room. Both patients smiled ear-to-ear while sharing stories from the court and playing video games with the NBA stars.
For more information, visit stjude.org/hoops, follow @StJude on Twitter or show your support by becoming a St. Jude Fan for Life.
Ambassadors for the 2015 Hoops for St. Jude Week are:
Mike Conley

, Memphis Grizzlies

Marc Gasol

, Memphis Grizzlies

Pau Gasol

, Chicago Bulls

David Lee

, Golden State Warriors

Kevin Love

, Cleveland Cavaliers

Greg Monroe

, Detroit Pistons
Coach

Monty Williams

, New Orleans Pelicans