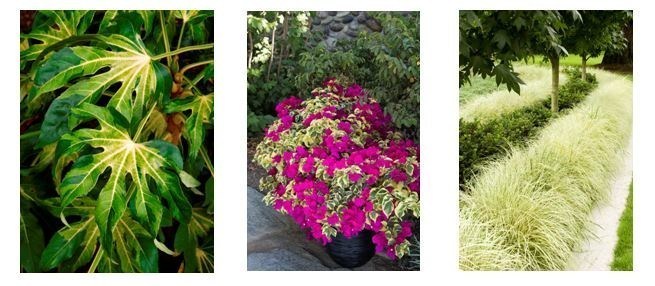 Spring is here and it's time to brighten up your garden with some variegated plants. Monrovia, the leading grower of premium garden plants, has 10 easy tips to help you get started expanding your plant palette:
1. When you're visiting the garden center, it's natural to focus in on plants with beautiful flowers and miss the stunning foliage. So on your next visit, walk around and seek out plants with variegated leaves. Look for more than green and white variegation.  Try to find some bright yellows, pinks and purples.
2. Ask about variegated plants that change with the seasons. Emerald 'N Gold Wintercreeper has bright green foliage with a gold edge that turns a bright pinkish-red in the fall and winter. Kaleidoscope Abelia is another great shrub for a year-round burst of color
3. Deep shade in the garden seems even darker with all green leaves.  Light colored variegated plants can brighten shady spots and draw the eye.
4. Don't forget about grasses — they easily fit into a perennial border and provide contrast so that bright colored blooms really stand out. Moor Grass is cold hardy and looks great all spring and summer. For color on its own, Fireworks Fountain Grass pops with white, green, pink and burgundy foliage. Cabaret Japanese Silver Grass has bold, milky-white stripes on strappy leaves.
5. Plant in mass for an instant "wow." Variegated Japanese Sedge looks magnificent planted in mass, alongside a deeper green shrub for contrast and an allée of broadleaf trees to set the scene. Then all you need is a slight breeze to set everything in motion.
6. Seek out a wide range of leaf shapes in your variegated plants to add texture and variety.  Look for different types of variegation, too – from stripes and swirls to spotting and edging.
7. For big, bold…almost prehistoric looking foliage, Camouflage™ Variegated Japanese Aralia is this year's stunner to brighten up a shady spot or to create a head-turning container. Each big, vibrant leaf has a camouflage pattern of yellow, lime, and green.
8. Start off by tucking a few variegated plants into your yard, since too many can be overwhelming.  Balance them with solid-covered foliage plants for a professional look.
9. Some of your favorite plants in the garden just might be available in variegated varieties.  Like Bougainvillea – as if it isn't dazzling enough, when it has variegated foliage like Raspberry Ice, it's truly memorable.
10. Many water-wise succulents are variegated. The Variegated Dwarf Agave seems to glow from the inside out with bright golden-yellow edged, fleshy curved leaves. Variegated Fox Tail Agave has bright white edging that adds a frosted touch.
For more ideas and inspiration in the garden, visit www.monrovia.com