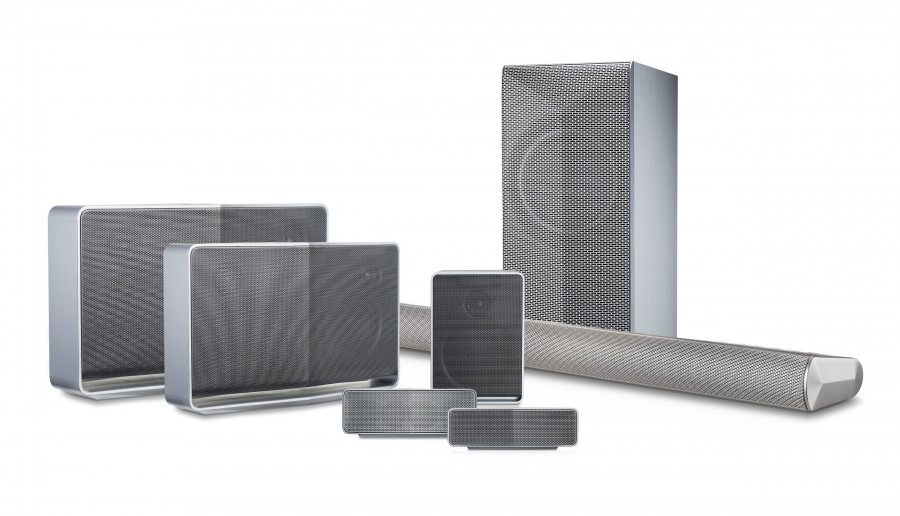 LG Electronics USA today announced pricing and availability for the LG Music Flow family of Smart Hi-Fi speakers and sound bars, which are among the first devices to feature Google Cast. LG's Music Flow is a smart Hi-Fi audio system that takes the experience of reconnecting with favorite music to a whole new level. Google Cast will allow anyone to send music from their AndroidTM phone or tablet, iPhone, iPad, Mac, Windows laptop or Chromebook to their Google Cast-enabled LG Music Flow audio speakers and sound bars.
The versatile LG Music Flow Wi-Fi audio lineup for the United States includes the company's first battery-powered Portable Wi-Fi streaming speaker (Model H4), three additional Wi-Fi streaming speakers (Model H3/H5/H7), and three new Wi-Fi streaming sound bars (Model LAS751M/LAS851M /LAS950M). Each model can be controlled using LG's intuitive Music Flow mobile app for various Android, iOS or Chromebook mobile devices.
The Home Cinema Mode enables users to enjoy a true home cinema sound experience, by adding an LG Music Flow sound bar to the network and synchronizing it with the Music Flow speakers;
Multi-Room mode lets you customize your home audio experience by synchronizing your speaker to play the same music or listen to different music in each room;
Auto Music Play automatically syncs with users' devices via Wi-Fi when the device is brought within one foot of the speaker so music can be enjoyed without interruption;
A Mesh network combined with dual band technology that minimizes interruptions of your music to deliver reliable, superior sound performance; and
Compatibility with many streaming services and Bluetooth® for endless music options.
LG Music Flow series is available at competitive prices from major retailers including Amazon, HH Gregg, Best Buy and Google Play store.
Models and suggested pricing:
Wi-Fi Streaming Speakers:
H3 30W speaker:

$179

H4 20W portable speaker:

$199

(available in May)
H5 40W speaker:

$279

H7 70W speaker:

$379
Wi-Fi Streaming Sound Bars
LAS751M:

$499

LAS851M:

$599

LAS950M: $999