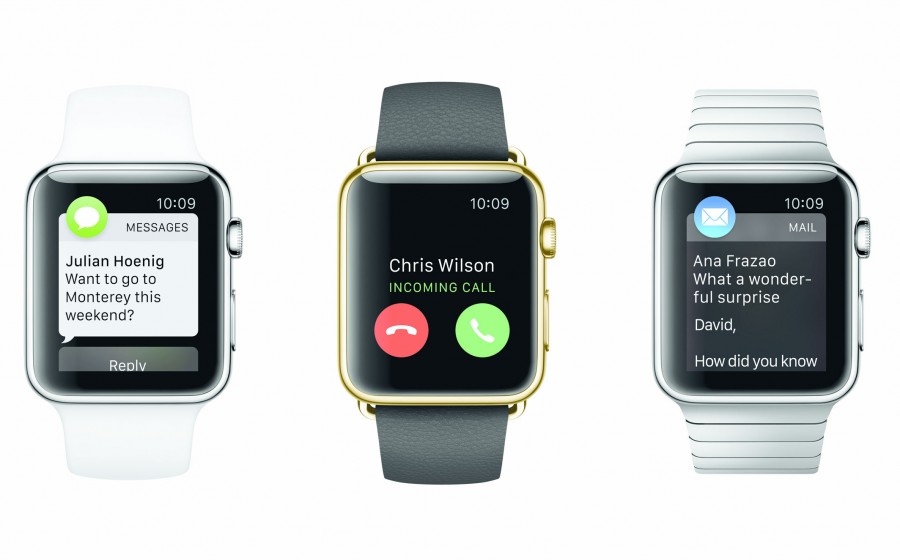 Photo: Apple PR
Ever since Apple announced the upcoming release of their Apple Watch, consumers and media can't seem to let the subject go. It's too expensive. Who would pay that much? It's a must-have. We hear and read all sides. Well, no matter what your opinion is of the Apple Watch… it's now available for preview and pre-order.
People in Australia, Canada, China, France, Germany, Hong Kong, Japan, the UK and the US can try on and experience Apple Watch at their local Apple Store®. Customers can pre-order their Apple Watch through the Apple Online Store and for delivery beginning April 24.
CNET reviewed the watch and they had good and bad things to say: "Battery barely lasts a day and recharge time is slow; most models and configurations cost more than they should."
"The Apple Watch is a beautifully constructed, compact smartwatch."
Now you can try on Apple Watch, Apple Watch Sport or Apple Watch Edition to find the model with the size, finish and band to best fit your personal preference and style. Everyone visiting an Apple Store will be able to view all three collections and get hands on with Apple Watch Demo to browse and edit different watch faces, and learn about Apple Watch's health and fitness features, Digital Touch, Siri®, Apple Pay™ and more.
New owners will also learn how to personalize Apple Watch by selecting a watch face, deciding which notifications to receive, setting up the Activity app, and receive an introduction to Apple Pay** and the Apple Watch App Store™. 
Beginning April 24, Apple Watch will also be available at boutiques in major cities including colette in Paris, Dover Street Market in London and Tokyo, Maxfield in Los Angeles and The Corner in Berlin, and select Apple Authorized Resellers in China and Japan.
Apple is calling the watch an incredibly accurate timepiece, an intimate and immediate communication device and a groundbreaking health and fitness companion. Highly customizable for personal expression, Apple Watch also brings an entirely new way to receive information at a glance and interact with the world through third-party app experiences designed specifically for the wrist.
Apple Watch introduces revolutionary technologies including the Digital Crown™, an innovative way to scroll, zoom and navigate fluidly without obstructing the display. The Retina® display with Force Touch on Apple Watch senses the difference between a tap and a press, providing a new way to quickly and easily access relevant controls. The all-new Taptic Engine™ discreetly delivers a gentle tap on your wrist whenever you receive a notification or message.
Apple Watch is available in three collections, Apple Watch Sport, priced at $349 (US) and $399 (US); Apple Watch, available from $549 (US) to $1,099 (US); and Apple Watch Edition, crafted from custom rose or yellow 18-karat gold alloys, with prices starting at $10,000 (US).
Apple Watch requires iPhone 5, iPhone 5c, iPhone 5s, iPhone 6 or iPhone 6 Plus running iOS 8.2 or later.