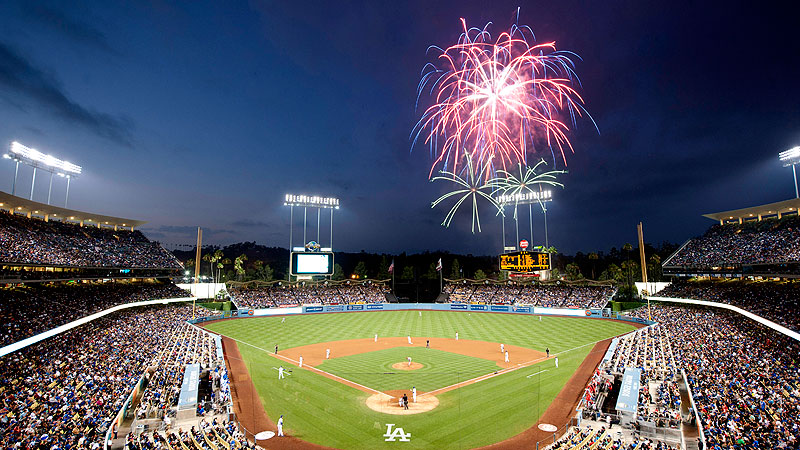 The Los Angeles Dodgers will continue to light up the sky with Friday Night Fireworks at Dodger Stadium this season.
The Dodgers will have 13 different themed fireworks shows following their Friday night games, all sponsored by Denny's.
In addition to the 13 Friday night games, the Dodgers also will have a fireworks show following their Saturday, 4th of July 4:15 p.m. game with the New York Mets.
The Denny's Friday Night Fireworks schedule (all games at 7:10 p.m.) and their themes:
April 17 vs. Colorado-Coachella 2015 (featuring artists at Coachella produced by DJ Earworm)
May 1 vs. Arizona-Top 40 Hits
May 15 vs. Colorado-Songs from 1965 saluting 1965 World Champions
May 22 vs. San Diego-Live DJ set by Grammy award winner Zedd
June 5 vs. St. Louis-Music of John Williams
June 19 vs. San Francisco-LGBT Pride Night
July 3 vs. New York Mets-Country Rock Music
July 10 vs. Miami-'70s Music
July 31 vs. Los Angeles Angels-'80s Music
August 14 vs. Cincinnati-Dodger Players Music
August 28 vs. Chicago Cubs-Summer Songs
Sept. 18 vs. Pittsburgh-Salute to Frank Sinatra
Oct. 2 vs. San Diego-Salute to Hispanic Heritage Month
In addition to one Friday Night Fireworks Night, the month of April will feature five promotional dates fans will want to mark on their calendars. The Dodgers will give away an adult replica pullover jacket presented by Bank of America on tomorrow, April 8 at the 7:10 p.m. game with the San Diego Padres.
Two of the eight Cy Young Collectors' Pin Series presented by 76 will be in April-Monday, April 13 vs. Seattle at 7:10 p.m. and Monday, April 27 vs. San Francisco at 7:10 p.m. The game against Seattle will feature the pin of Don Newcombe and the game against the Giants will spotlight Don Drysdale.
Jackie Robinson Day and the Civil Rights Game will be on Wednesday, April 15 against Seattle at 7:10 p.m. Fans in attendance will receive an adult Jackie Robinson replica jersey presented by Bank of America.
The final promotional night in April will be Wednesday, April 29 against the San Francisco Giants at 7:10 p.m. and fans will receive a Clayton Kershaw Dodgers' Fleece Blanket presented by Security Benefit.
Tickets remain on sale for all of these April promotional dates as well as all regular-season home games at www.dodgers.com/tickets.
Photo: espn.go.com