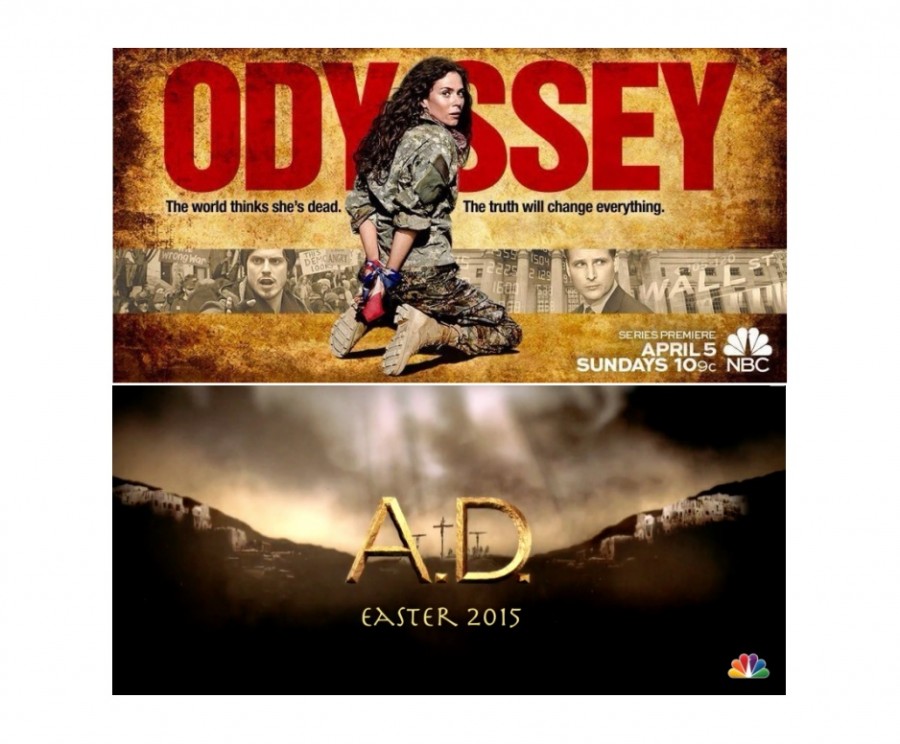 On Easter Sunday, April 5, at 9 and 10 p.m., NBC will debut two of its highly anticipated dramas — "A.D." and "Odyssey."
First up, the 12-hour miniseries, "A.D." comes after the eye-opening success of "The Bible" miniseries on History. From Mark Burnett and Roma Downey — the series will look at the lives that were instantly altered following the death of Christ. His disciples, mother Mary and key political religious leaders at the time saw their world turned upside down and their lives forever altered. Beginning at the fateful moment of the Crucifixion and the Resurrection, part two of the Greatest Story Ever Told will focus on the disciples who had to go forward and disseminate the teachings of Christ to a world dominated by political unrest, starting a whole new religion that would dramatically reshape the history of the world.
"A.D." stars Greta Scaachi as Mother Mary, Richard Coyle as Caiaphus, Vincent Regan as Pilate, Adam Levy as Peter, Chipo Chung as Mary Magdalene and Juan Pablo Di Pace as Jesus.
Mark Burnett, Roma Downey and Richard Bedser serve as executive producers.
Right after, "Odyssey" airs: In this "Traffic"-like action drama, an international conspiracy explodes when three strangers' lives unexpectedly collide — a female soldier, a corporate lawyer and a political activist. After a team of American soldiers battles Jihadists in North Africa, they're shocked to find that one of the men they killed is Al Qaeda's top man. Sgt. Odelle Ballard (Anna Friel, "Pushing Daisies") — a soldier, mother, wife and the unit's only female member — discovers computer files that suggest a major U.S. corporation is funding the Jihadists.  But before she can tell anyone, her team is attacked and left for dead. News is reported that the unit was wiped out, but the truth is that Odelle survived and is the only witness to her unit's assassination by U.S. Special Forces. In New York, former U.S. Attorney Peter Decker (Peter Facinelli, "Nurse Jackie") is working on a merger deal for the same company that was funneling money to the Jihadists. Meanwhile, Harrison Walters (Jake Robinson, "The Carrie Diaries"), a political activist and trust fund kid, meets a hacker who claims to have unearthed a massive military-industrial conspiracy. And he's right: He's stumbled onto the cover-up that began with Odelle and will soon be out in the open and everyone's lives will be in danger. The only way they'll ever save their country, their families and themselves is by joining forces and exposing the people behind it.