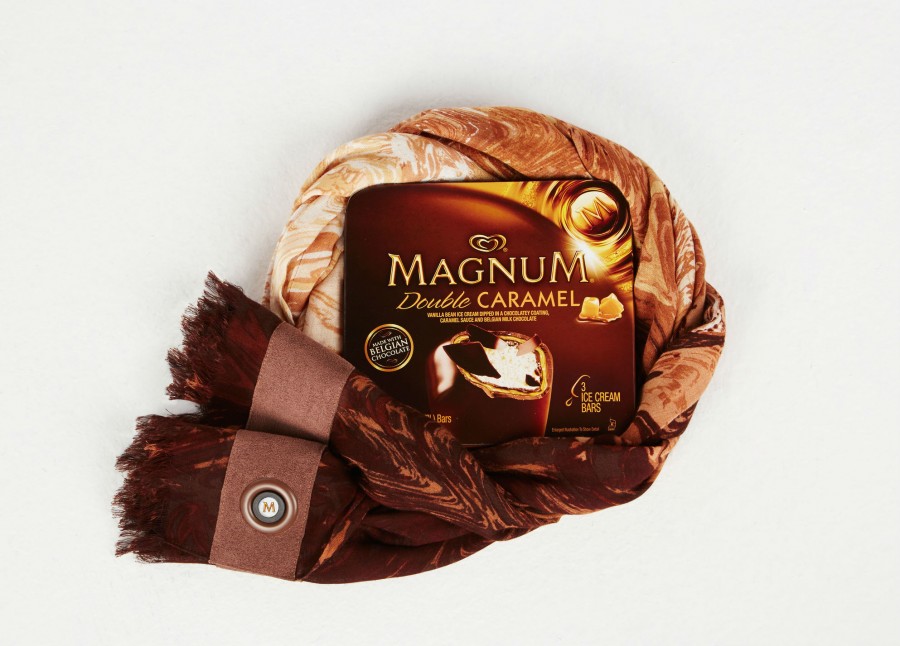 MAGNUM® Ice Cream, the only ice cream bar made with Belgian chocolate, is partnering with globally renowned fashion brand BCBGMAXAZRIA to create the world's most pleasurable fashion accessory. Through the use of innovative scent technology, the BCBGMAXAZRIA for MAGNUM Belgian Chocolate Wrap offers women a new way to indulge in their love of chocolate and fashion.
The limited edition BCBGMAXAZRIA for MAGNUM Belgian Chocolate Wrap uses a decadent aroma, rich colors and smooth textures inspired by Belgian chocolate to let women experience the 'MAGNUM Effect' – the same sense of pleasure you experience when indulging in a MAGNUM Ice Cream bar. The MAGNUM Effect aroma infused into the wrap is crafted with some of the world's most exquisite and delectable ingredients, and when combined with fabrics of suede and silky viscose, women will feel wrapped in chocolate pleasure all day long.
"In fashion, we focus so much on sight and touch," said Lubov Azria, chief creative officer of BCBGMAXAZRIA. "The design of the wrap was inspired by the smooth feel of chocolate and the visual of a melting MAGNUM Double Caramel Ice Cream bar. But to find a way to incorporate the aroma as well means the BCBGMAXAZRIA for MAGNUM Belgian Chocolate Wrap has taken fashion beyond the realm of the visual and tactile, giving everyone a new and innovative way to experience fashion as a true feast of the senses."
With critically acclaimed collections, a loyal following of Hollywood's celebrities and a strong worldwide presence, BCBGMAXAZRIA has become one of the top names in the fashion industry. To bring the BCBGMAXAZRIA for MAGNUM Belgian Chocolate Wrap to life, the team partnered with two of the world's leading sensorial experts, including Harvard scientist and scent inventor David Edwards and world-renowned master perfumer Christophe Laudamiel.
Through their expertise, the MAGNUM Effect aroma was incorporated into the wrap using oNotes – a revolutionary scent messaging platform that enriches and personalizes the experience of aroma. Created by David Edwards and his team, this is the first time oNotes have been integrated into a fashion accessory.
Go to magnumicecreamus.com for more information.