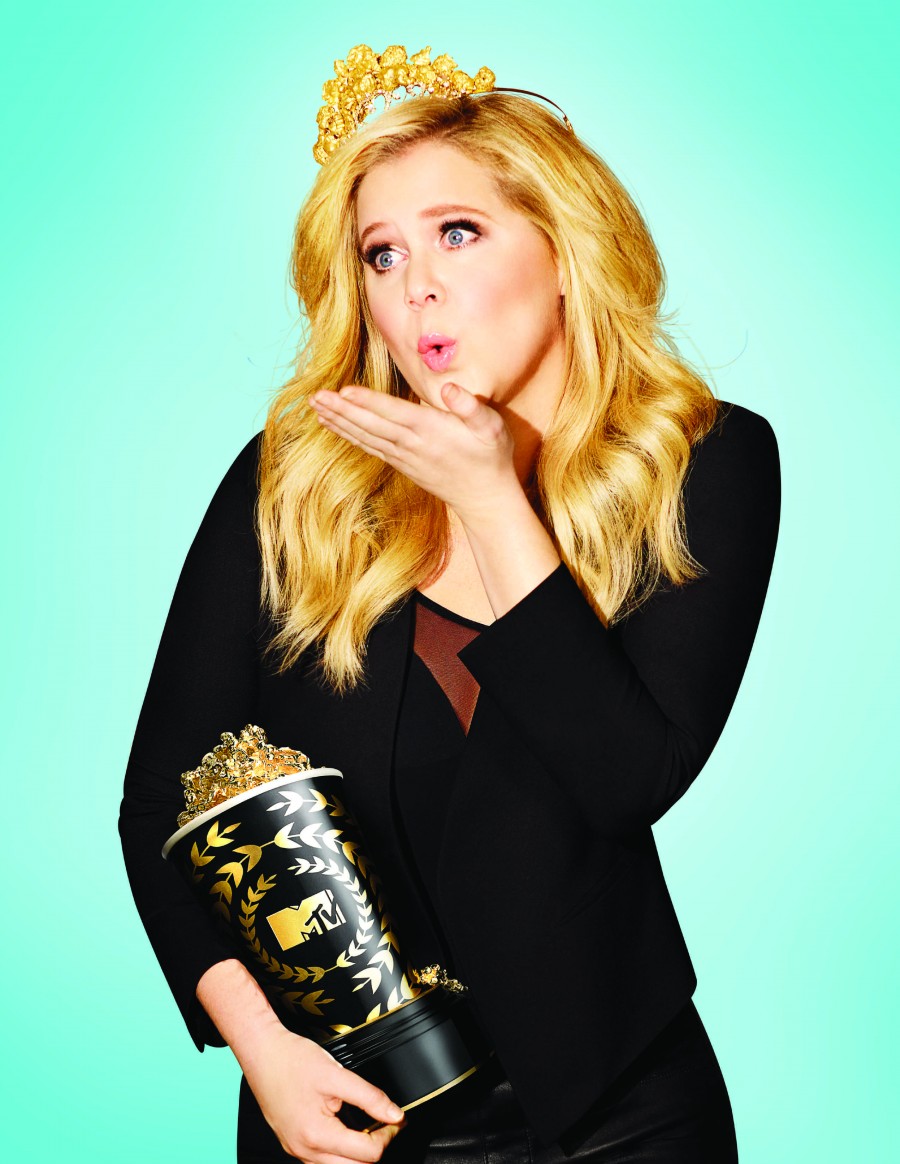 The "2015 MTV Movie Awards" will once again officially kick-off the summer blockbuster season, promising to deliver yet another epically funny, explosive, over-the-top show that features fan favorite films, actors and musicians. Hosted by none other than Amy Schumer, the telecast will air LIVE on Sunday, April 12 at 8:00 PM ET/PT from Nokia Theatre L.A. Live in Los Angeles, California.
Fans can get in on the action at the only awards show where Guardians of the Galaxy will go head-to-head with an American Sniper and fierce females, Jennifer Lawrence, Emma Stone, Shailene Woodley, Reese Witherspoon and Scarlett Johansson will face off for the coveted golden popcorn. Votes can be cast for fan's favorites at www.MovieAwards.MTV.com through Saturday, April 11. Voting for "Movie of the Year" will continue throughout the live broadcast of the show.
The telecast will air across MTV's global network of channels in more than 160 countries and territories, reaching more than half a billion households around the world.
Robert Downey Jr. will receive the MTV Generation Award during the "2015 MTV Movie Awards" that will air LIVE on Sunday, April 12 at 8:00 p.m. ET/PT from Nokia Theater L.A. Live in Los Angeles, California. Downey Jr., known as one of Hollywood's most versatile actors, will be presented the award by his Marvel's Avengers: Age of Ultron co-stars Chris Evans, Scarlett Johansson, Chris Hemsworth, Mark Ruffalo and Jeremy Renner.
Kevin Hart will receive the MTV "Comedic Genius Award." Presented by late-night funny man Jimmy Kimmel, the award will honor Hart for his bold and irreverent comedic style that has captivated audiences from his movies and sitcoms, to stand-up specials, award show performances and in front of packed arenas of fans. The first recipient of the award was Hart's Get Hard co-star, Will Ferrell, in 2013.
Robert Downey Jr. will receive the MTV Generation Award during the "2015 MTV Movie Awards" that will air LIVE on Sunday, April 12 at 8:00 p.m. ET/PT from Nokia Theater L.A. Live in Los Angeles, California. Downey Jr., known as one of Hollywood's most versatile actors, will be presented the award by his Marvel's Avengers: Age of Ultron co-stars Chris Evans, Scarlett Johansson, Chris Hemsworth, Mark Ruffalo and Jeremy Renner. – See more at: http://thepub.viacom.com/sites/mtvpress/Pages/2015-Generation-Award.aspx#sthash.3vrOcwWL.dpuf
Robert Downey Jr. will receive the MTV Generation Award during the "2015 MTV Movie Awards" that will air LIVE on Sunday, April 12 at 8:00 p.m. ET/PT from Nokia Theater L.A. Live in Los Angeles, California. Downey Jr., known as one of Hollywood's most versatile actors, will be presented the award by his Marvel's Avengers: Age of Ultron co-stars Chris Evans, Scarlett Johansson, Chris Hemsworth, Mark Ruffalo and Jeremy Renner. – See more at: http://thepub.viacom.com/sites/mtvpress/Pages/2015-Generation-Award.aspx#sthash.3vrOcwWL.dpuf