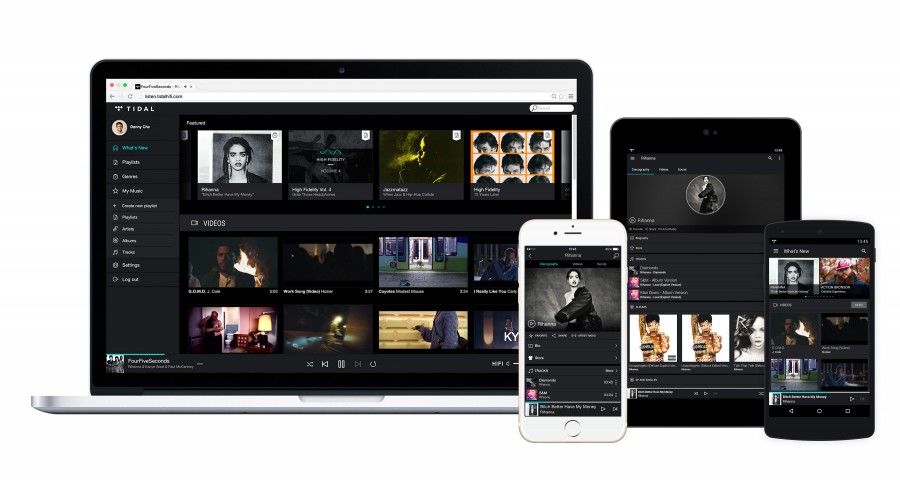 Look out Pandora and Spotify, TIDAL has revamped and relaunched. Jay Z recently acquired controlling interest in the Scandinavian-based service, which is penned as the first High Fidelity lossless music streaming service with HD music videos and Curated Editorial.
TIDAL has an extensive library of 25 million-plus tracks, 75,000 music videos, and curated editorial articles, features and interviews written by experts. Ad free and available for a monthly subscription of $9.99 or $19.99, via  www.tidal.com  or download the app from iTunes App Store or the Google Play Store.
So now the questions is, will TIDAL compete with music streaming extraordinaire services, Pandora and Spotify? The design is fairly similar to Spotify, but the idea that artists are involved and support specific file sharings on TIDAL sets them apart.

TIDAL Videos move into a more prominent position and join the Curated Editorial footprint on TIDAL's What's New Homepage, in Promo features and a dedicated section. TIDAL is a single destination for artists and fans to share ideas, exclusive content, songs, videos, studio sessions, rough tracks, personal conversations and more. New Artist pages feature a separate Video tab, a Social tab integrating Twitter feeds from a range of prominent artists, and a Merchandise tab for selected artists, where users can purchase merchandise through the official artist store. Tracks, albums and EPs have been merged into a new Discography tab.
Available across iOS and Android devices, as well as in web browser and desktop players, TIDAL offers high fidelity, lossless sound quality to enjoy music the way it was intended by your favorite artists.  Streaming at more than four times the bit rate of competitive services, users are able to enjoy TIDAL on a wide range of the world's finest home and portable audio products. Partnership and integration agreements have already been made with over 30 of the world's most respected audio brands, see complete list below.  http://tidal.com/us