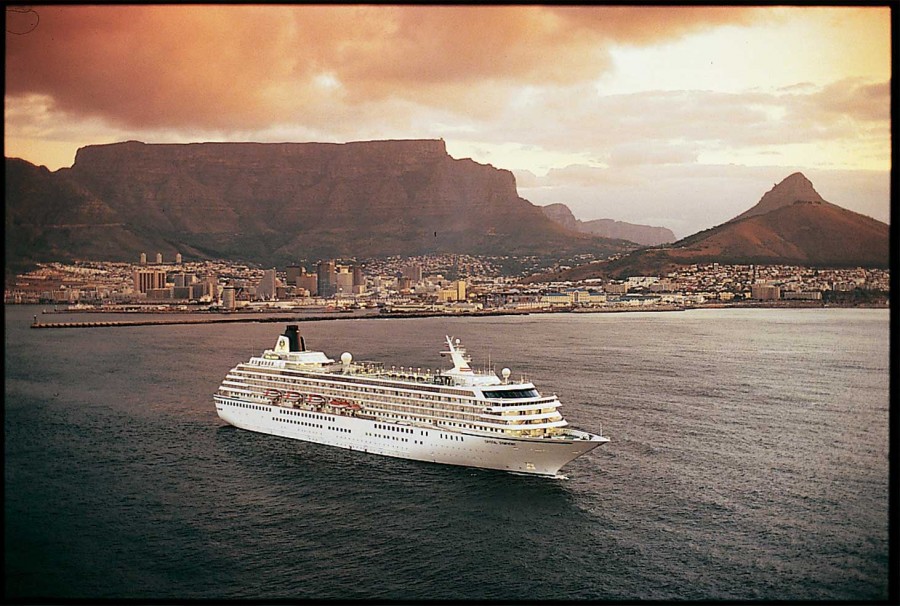 Crystal Cruises, Crystal Symphony and Crystal Serenity will each embark on World Cruises in 2018 – offering travelers four separate global itineraries aboard the award-winning ships.
The concurrent world cruise routes for 2018 begin in January, with both ships simultaneously arriving in Sydney on February 17. This rare meeting allows the exciting opportunity to combine the itineraries of the two ships, as guests can switch vessels for a new odyssey. Ranging from 97 to 129 days, the innovative voyages will travel to a combined 111 destinations in 45 countries, featuring 16 maiden calls and 50 overnights. During the ship's rendezvous in Sydney, full World Cruise guests will be treated to a spectacular gala celebration. 
Crystal's 2018 World Cruise collection includes Crystal Symphony's first full World Cruise since 2003; Crystal Serenity's 15th global expedition; and the unprecedented ability to begin on Crystal Symphony then switch to Crystal Serenity in Sydney for a journey through Asia, India, and Holy Land; or set sail on Crystal Serenity before joining Crystal Symphony in Sydney for a South Pacific route to Miami.  
"Crystal Cruises has long been celebrated for cultivating original, captivating itineraries throughout the world's most beloved destinations, as well as less visited gems," says Crystal's president, Edie Rodriguez. "The 2018 World Cruise voyages are a true testament to Crystal's continued innovation and creativity, and our commitment to guests in broadening their luxury travel experiences."
With the announcement of four spectacular world cruises for 2018, the luxury cruise leader becomes the first cruise line to have a collection of World Cruises printed and available for booking for the next three years (2016 – 2018).
2018 World Cruise Itineraries include:
World Cruise One/Cape Town to Miami/January 7 to April 30, 2018 
Crystal Symphony departs Cape Town, South Africa on a 114-day sailing covering much of the Southern Hemisphere, including South Africa, Australia/New Zealand, the South Pacific/French Polynesia; and South America before exploring the Caribbean. The journey will make six maiden calls including: Geraldton, Bunbury, and Esperance Australia; Burnie, Tasmania; Fakarava, French Polynesia, and Robinson Crusoe Island, Chile.
World Cruise Two/Los Angeles to Rome/January 23 to May 16, 2018 
Crystal Serenity embarks on a 112-day scenic exploration of the South Pacific, Australia, Indonesia, Southeast Asia, India, Dubai and the Mediterranean. The journey is highlighted by maiden calls and overnights in Manila, Philippines, and Mumbai, India. Other overnight highlights include Muscat, Oman; Dubai, UAE; and Safaga, Egypt – the gateway to the Temple of Luxor.
World Cruise Three/Cape Town to Rome/January 7 to May 16, 2018 
Aboard the longest duration of the itineraries with 129-days, guests set sail on the first part of Crystal Symphony's World Cruise segments from South Africa through Australia before continuing their adventure aboard Crystal Serenity on a journey bound for Asia, India, Egypt, the Holy Lands and Italy.
World Cruise Four/Los Angeles to Miami/January 23 to April 30, 2018 
Following 24 days of navigating the islands of Hawaii, Fiji and other exotic beach destinations aboard Crystal Serenity, guests can join Crystal Symphony for a unique West to East coast voyage. The full 97-day sailing will travel through the Milford Sound, French Polynesia, Easter Island for Easter and Panama Canal.