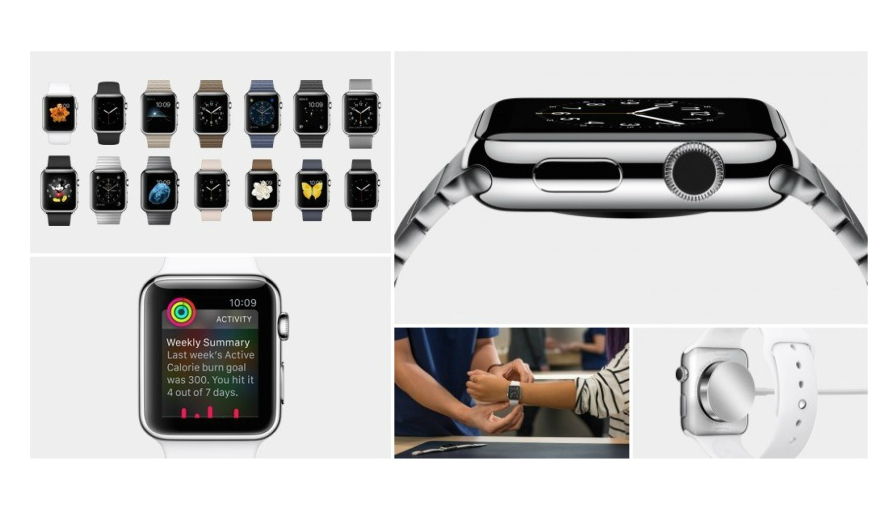 Photo: http://www.apple.com/live/2015-mar-event/
On Apple's big announcement day, the Apple Watch is in the spotlight. They claim it's the most advanced timepiece ever created. A device that will revolutionize how you connect with others. And a comprehensive health and fitness companion. Here are the Smart Watch highlights:
Apple

Watch will be available on April 24th in the US, UK, Germany, France, China, Canada, Australia, Hong Kong and Japan.

On April 10th, the Apple Watch will be in store for presales and previews.


Digital Touch lets you send a sketch, a tap, or even your heartbeat to other people wearing Apple Watch.

When you receive a notification, the Taptic Engine alerts you with a gentle tap.

Stainless steel cases in two beautiful finishes — traditional and space black. There is an edition available in 18-karat gold cases in yellow or rose.
For the MacBook Air:
It now has fifth-generation Intel Core processors and Thunderbolt 2. And it's available today.
For the MacBook:
The 13-inch MacBook Pro with Retina display now has fifth-generation Intel Core processors. 2x faster flash storage. And up to 10 hours of battery life.

Engineering the thinnest Retina display ever on a Mac m

eant refining it at every level.

The most advanced Mac notebook ever starts at $1299.