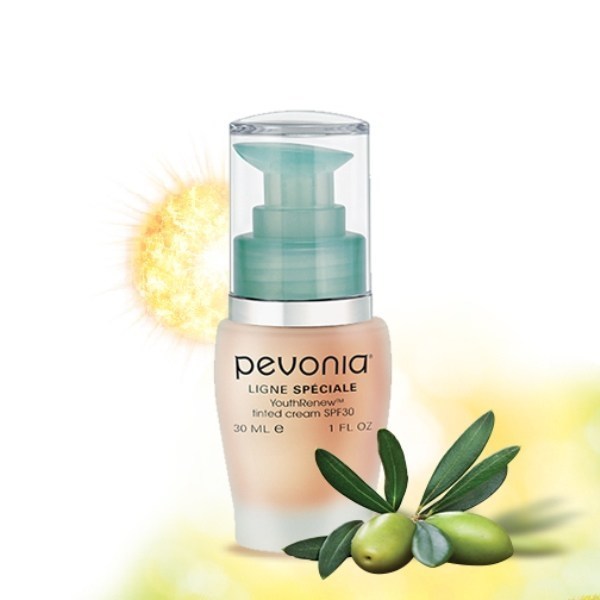 Pevonia® introduces its new, YouthRenew™ Tinted Cream SPF 30, the ultimate 5-in-1 daily defense moisturizer. Utilizing powerful natural and organic ingredients, this multitasking formula delivers instant radiance in five seconds while also providing significant anti-aging benefits, ultra-hydration, broad spectrum protection and a natural, soft tint for a flawless, healthy complexion. 

Unlike any other product on the market, the YouthRenew™ Tinted Cream SPF 30 gives skin a brighter, more luminous glow in just five seconds through its Flash Action Unisphere, a new botanical and cosmeceutical complex embedded with saccharides, lemon and cucumber extracts that instantaneously provides skin with a healthy luminosity and impeccable complexion.
The rejuvenating, lightweight formula also improves skin texture through the use of Sea Whip Extract, which features the most effective natural anti-inflammatory actives currently available for cosmetic use. Shea Butter, Marine Collagen, Vitamin C and Green Olive extracts deeply heal, hydrate, and rejuvenate skin for refreshed results. Combined with a subtle natural tint and SPF 30 for broad spectrum protection from UVA and UVB rays, this unique combination of ingredients help YouthRenew™ Tinted Cream SPF 30 reduce the appearance of enlarged pores, erase fine lines and wrinkles and illuminate skin throughout the day.
The YouthRenew™ Tinted Cream SPF 30 uses the latest, most effective natural ingredients available to ensure effortlessly radiant results. As always, Pevonia® products are made with natural and organic extracts, and are alcohol free, gluten free, paraben free, lanolin free, mineral oil free, PABA free, sodium lauryl sulfate free, non-GMO and Mother Earth Approved. Pevonia YouthRenew™ Tinted Cream SPF 30 is recommended for all skin types.
To use, thoroughly cleanse the skin with Pevonia® cleanser and follow with toner/lotion. Then, to achieve perfect coverage and even tone, pump one to three drops of the daily tinted cream and apply morning or when needed to face and neck. YouthRenew™ Tinted Cream SPF 30 (1 oz.) will be available late April 2015, with an MSRP of $49 at the newly redesigned www.Pevonia.com, as well as at elite spas worldwide.