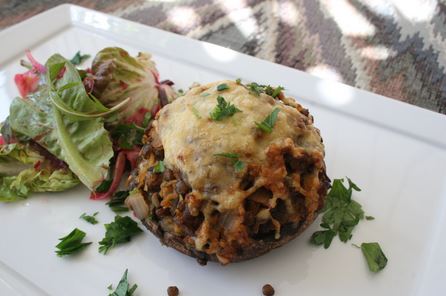 Healthy and delicious? We'll take it! try this wonderful recipe from Paulding & Company— a full catering kitchen based in San Francisco, founded by mother-daughter duo Tracy and Terry Paulding. The Baked Stuffed Portabellini Mushrooms are a tasty treat packed with-tons of flavor! If you whip it up, send us your tasty photos on Instagram (LATFusa) and Twitter (@LATFUSA).
Yield: 4 side dish, or 2 main course portions; or use larger mushrooms for two main course servings
1 medium zucchini
1 tsp. kosher salt
1/3 cup French lentils
4 very fresh Portabellini mushrooms, about 3" with rounded, not flat, caps
1 small red onion
2 large garlic cloves
2 medium tomatoes
2 Tbs. extra-virgin olive oil
1 tsp. each, mild and picante smoked Pimenton
kosher or sea salt & pepper to taste
Juice of 1/2 small lemon (about 1 tablespoon; if you have extra, save to add if needed)
1/4 cup chopped parsley
1/2 cup grated Manchego cheese or any other interesting, not bland, cheese
Grate the zucchini on the large holes of the grater, then place in a bowl with the teaspoon of kosher salt. Let stand while you do the rest of the vegetable prep, then drain and squeeze dry in a clean towel. Set aside.
Combine the picked over and rinsed lentils with 1 1/2 cups water in a small pot, bring to a boil, turn the flame down, and cook 15 minutes or until almost tender. Drain and set aside.
Remove the stem from each mushroom by snapping it carefully out of the cap, and chop the stems fine. Fine-chop the onion, and add to the mushroom stems. Peel and mince the garlic. Cut the stem from each tomato, make an X in the bottom with a knife, and either blanch for 10 seconds in boiling water, or quickly grill over an open flame — the gas flame on your stove works well. You want the skin to loosen, so you can pull it off, without cooking the tomatoes. Chop the skinned tomatoes, removing seeds if there are a lot. Have these ingredients near the stove before you start to cook.
Sauté onions and mushrooms in olive oil, seasoning well with salt and pepper. Add the garlic and drained zucchini, then cook and stir briefly to combine the ingredients. Add chopped tomatoes and season well with both types of pimenton; taste the mixture, it should be smoky, and a bit spicy, and also a little salty. Fold in the cooked lentils. Taste and re-season with more salt and pepper as needed. Add the lemon juice. Cook for 2 minutes, or until the mixture is juicy but not runny, taste once more and adjust seasonings if needed, including adding more lemon, then remove from the heat and fold in half the cheese. Stuff mushrooms with the mixture, and top with remaining cheese. You can do all the prep the day before or in the morning, then refrigerate until ready to bake and eat.
Preheat oven to 350-375° F. You can put these in with any other thing you're roasting, the temperature is a bit flexible. Place mushrooms on a parchment-covered, lightly oiled baking sheet. Bake for about 12-15 minutes, until the mushrooms are soft and juicing out a bit, and the filling is toasty with nicely browned cheese. If you've refrigerated the mushrooms, you may need a bit more cooking time. Serve hot and enjoy!