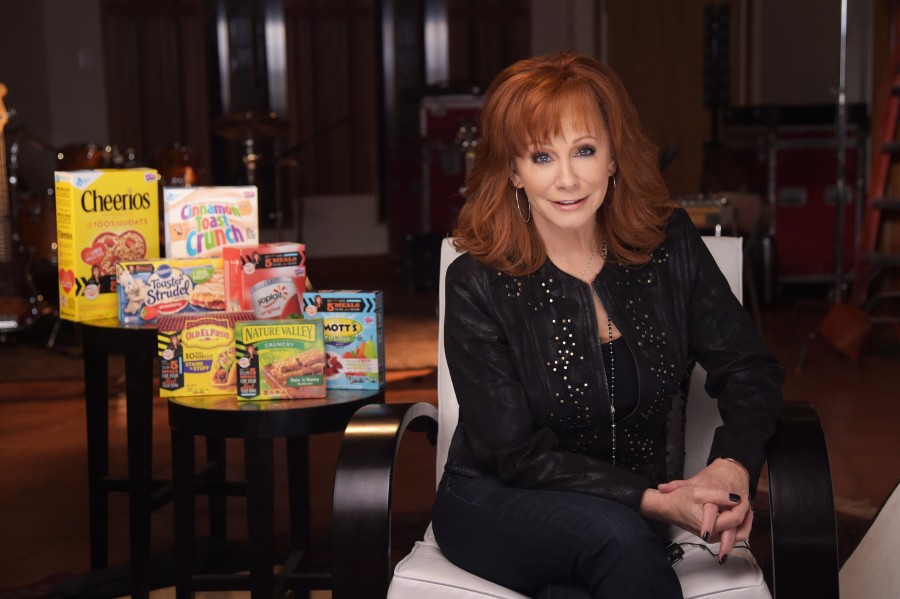 General Mills, Big Machine Label Group (BMLG) and Feeding America® announced the launch of its fourth annual Outnumber Hunger campaign, which has helped secure more than 35 million meals to people facing hunger in America. This spring, superstar entertainer Reba will be the face of the initiative to help raise awareness of the 49 million individuals struggling with hunger in America and will kick off the campaign with a special concert event, "Reba and Friends Outnumber Hunger," featuring songs from her forthcoming album LOVE SOMEBODY.
"I was raised to treat others with compassion. Knowing that one in six Americans struggle with hunger means my fans and people I see every day need help," said Reba. "The Outnumber Hunger campaign is such a simple way to help your neighbors, so how could you not? I'm so proud to lead the charge with Big Machine Label Group, General Mills and Feeding America." 
Starting in April, Reba and other talented BMLG artists will be featured on more than 60 million General Mills packages, including Cheerios, Pillsbury, Yoplait and Nature Valley. Through Jan. 31, 2016, individuals can help Feeding America secure five meals for their local food bank, for each General Mills product code entered at OutnumberHunger.com.
"As a leading food company in the United States, we have a responsibility to do what we can to support the one in six Americans who may not know where their next meal is going to come from," said Shawn O'Grady, senior vice president, General Mills.  "We are excited to partner with Reba, Big Machine Label Group and Feeding America to bring attention to the issue of hunger in America and provide meals to those who turn to their local food bank for help."
General Mills is a Feeding America Leadership Partner and has worked with its network of food banks for more than 30 years. Over the last ten years, General Mills has donated nearly 230 million pounds of food to Feeding America.
"Many people do not know that hunger exists in America, but there are people struggling with hunger in every single county in our country. Food insecure people do not have regular access to enough food for a healthy, active life. These families, employees, veterans and seniors are the people Feeding America serves. Programs like Outnumber Hunger are shining a light on this issue and giving us the support we need to serve people in need in communities across the country," said Bob Aiken, CEO, Feeding America.
In conjunction with the 2015 program launch, Reba will headline a special "Reba and Friends Outnumber Hunger" concert event with music from her new album LOVE SOMEBODY, due out April 14 on Nash Icon Records and marking her first new music in five years. Music fans nationwide can experience the concert—which also includes performances by Tim McGraw, Rascal Flatts, Florida Georgia Line, Eli Young Band and Maddie & Tae—beginning with televised broadcasts on local Gannett affiliates starting April 17. The concert will also air April 18 on CMT, as well as through an exclusive radio broadcast featured on iHeartMedia Country stations across the nation and via the iHeartRadio app. Visit OutnumberHunger.com for local listings.
"The Big Machine Label Group and our artists are honored to join General Mills and Feeding America for the fourth year of the Outnumber Hunger campaign," said Scott Borchetta, president & CEO, BMLG. "We are passionate about fighting hunger across the U.S. and making a difference in the lives of the 49 million people who struggle with getting access to enough food." 
For more information and to enter codes visit OutnumberHunger.com.