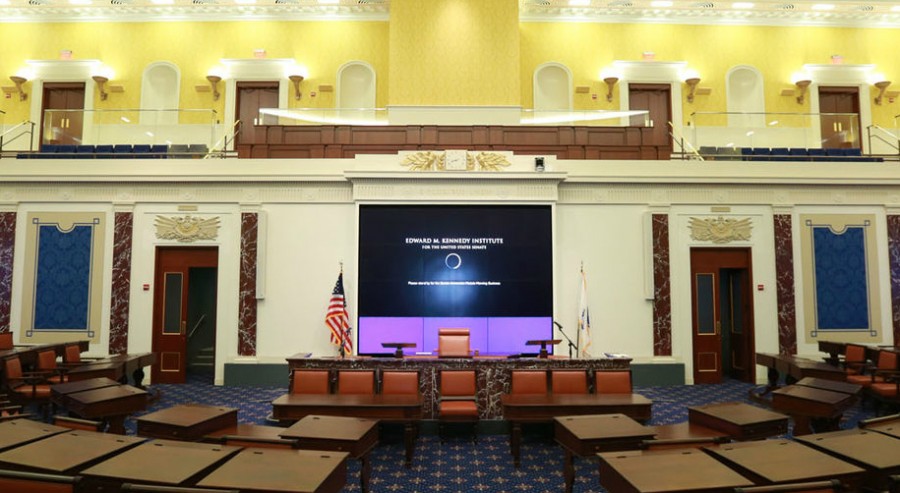 The Edward M. Kennedy Institute for the United States Senate (EMK Institute) will open with a formal dedication at Columbia Point in Boston on March 30, 2015.
Located on Columbia Point just outside downtown Boston and next door to the John F. Kennedy Presidential Library and Museum, the EMK Institute will bring the history of the United States Senate alive using technology to engage and inspire like never before. A full-scale representation of the United States Senate Chamber, as well as interactive exhibits, and a reproduction of Senator Edward Kennedy's office will be on site.
President Barack Obama, Vice President Joe Biden, and First Lady Michelle Obama will attend. Secretary of State John Kerry, Senator John McCain, Massachusetts Governor Charlie Baker, current and former Members of Congress, other government officials, members of the Kennedy family, and friends and colleagues of the late Senator Edward M. Kennedy, also will gather to mark the occasion.
Using digital tablets and role-playing as Senators, visitors will debate, negotiate, vote on legislation, and ideally, leave the Institute inspired to make a difference in their own communities.
The following are pricing and parking details, as well as hours of operation.
2015 Ticket Pricing:
Adults (25-61) – $16.00 *$14.00 for Massachusetts Residents
Youth (18-24), Seniors (62+), Veterans – $14.00 *$12.00 for Massachusetts Residents
Children (6-17) – $8.00 *Free for Massachusetts Residents
Free admission for all children under 6 and all U.S. Active Duty Armed Forces
For more visiting info: https://www.emkinstitute.org/