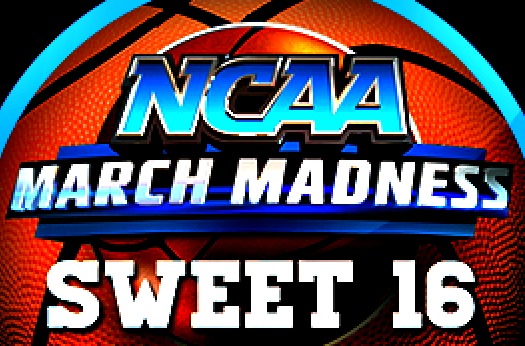 For the first time since 2007, the first round of the NCAA Tournament featured zero four and five seeded upsets. This doesn't mean it's been short on the madness, however. Fourteen-seeded Georgia State captivated America for a brief moment, and the East Region has already lost its one and two seeds. Number one overall seed Kentucky endured a brief scare from Cincinnati, but pulled away for a thirteen point victory.
The next obstacle in their pursuit of a perfect season is five-seeded West Virginia. The Mountaineers thrive off a blitz-happy press defense which could pose some problems for the Wildcats. The other Midwest semifinal matchup is Notre Dame and Wichita State. The Fighting Irish most recently held off Butler in overtime while the Shockers finished a massive upset over two seeded, and their in-state older brothers, Kansas. 
Thanks to eight-seeded NC State's three point shocker over Villanova, only three one-seeds remain in the tournament. The Wolfpack are hoping their momentum will carry them to a victory over Rick Pitino and Louisville. Michigan State will battle Oklahoma for the East region's other Sweet Sixteen game. The Spartans defeated the two-seeded Virginia Cavaliers the previous round, a thorough beat down that should leave their confidence high for the Sooners. 
Number-one seeded Wisconsin looks forward to a West Region battle against ACC powerhouse North Carolina. Fueled by the best front court in the country, starring All-American Frank Kaminsky, the Badgers defeated the Oregon Ducks 72-65 in the round prior. Xavier ended Georgia State's ambitions for a Cinderella run and advanced to play Pac-12 champion Arizona. The Wildcats made quick work against tenth-seeded Ohio State, beating up on the Buckeyes for a 15-point victory. 
The Duke Blue Devils managed a 19-point win against San Diego State despite only two attempted free throws the entire game. Freshman stud Jahlil Okafor has looked dominant the first two rounds, but don't sleep on five-seeded Utah. Led by NBA prospect Delon Wright, the Utes have the size and shooting to possibly upset Coach K and Duke. UCLA is the highest seed remaining in the tournament at eleven. They face their toughest opponent thus far in Gonzaga. That rounds out the South in what should be a terrific round of action for sport fans alike. 
By Kyle Edwards