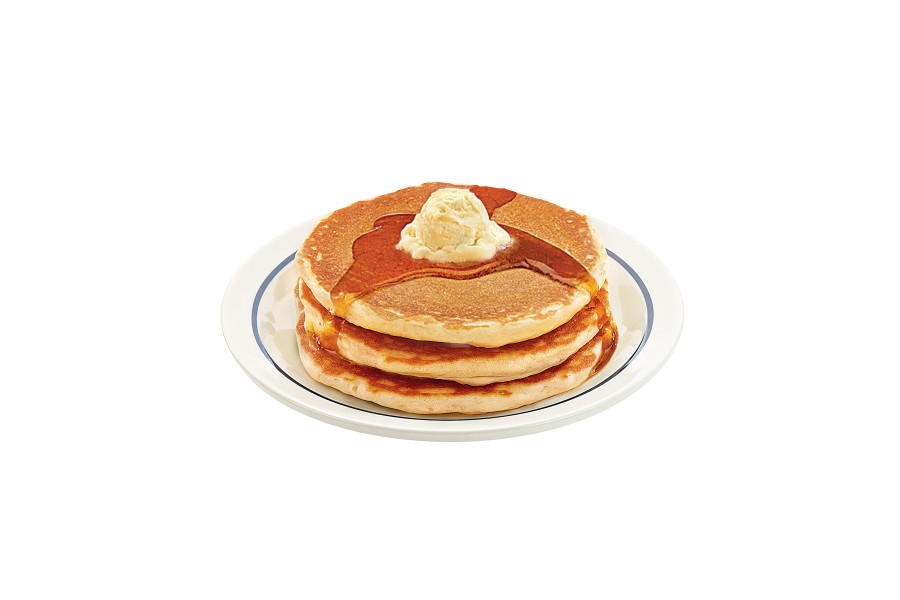 HOP® restaurants are celebrating the tenth anniversary of National Pancake DaySM on March 3, 2015, once again offering one free short stack of their famous buttermilk pancakes to guests to enjoy in our restaurants in the hopes that they will pay it forward by making a voluntary donation to their local Children's Miracle Network Hospitals, Shriners Hospital for Children, The Leukemia & Lymphoma Society or other local charities.
Participating IHOP Restaurants plan to give away millions of free pancakes," from 7 a.m. to 10 p.m. on Tuesday, March 3 to celebrate this "Decade of Giving".
More than 1,500 IHOP restaurants across the United States will participate in this beloved annual event which, to date, has raised $16 million for charity. All of the donations raised stay within the communities, helping provide lifesaving treatment and equipment for local sick and injured children.
In 2015, National Pancake Day continues to spread throughout the world: for the second year in a row, IHOP restaurants in Canada and Mexico will participate in the fundraiser, joined for the first time by IHOP restaurants in the Philippines. IHOP restaurants in Canada will again support the Children's Miracle Network and IHOP restaurants in Mexico will raise money for Asociación Mexicana de Ayuda a Niños con Cáncer, (AMANC) that provides accommodations and resources to children undergoing treatment for cancer and their families. IHOP restaurants in the Philippines will be raising funds for The Kythe Foundation, which provides children with cancer and chronic illness opportunities to learn, play and grow while they are in the hospital.
"It's both incredible and incredibly gratifying that we are now marking a full decade of National Pancake Day, which has become not only a favorite of guests, but of our franchisees and team members," said Julia Stewart, Interim President, International House of Pancakes, LLC. "Little did we dream, ten years ago, that thanks to the generosity of our guests, we would be able to raise $16 million dollars, one short stack at a time, and make a substantial difference in the lives of the children in our local communities!"
"It is also thrilling to see National Pancake Day grow into International Pancake Day, and to see how truly global the spirit of giving back to the community is," added Stewart. "Now that the tradition has become established in Canada and Mexico, we look forward to welcoming our restaurants in the Philippines to this worldwide effort, and to continuing this international growth for many decades to come."
In the weeks leading up to National Pancake Day, participating IHOP restaurants will also sell "Miracle Balloons" for $1, $5 to benefit Children's Miracle Network Hospitals. The balloons will be available from Feb. 1 through National Pancake Day, and all proceeds will go to Children's Miracle Network Hospitals. Guests who purchase a $5 Miracle Balloon will receive a $5 discount coupon that can be used during their next dining visit. Similar icons are for sale in those restaurants supporting the Shriners Hospitals for Children and The Leukemia & Lymphoma Society as well.
For more information on National Pancake Day or to learn more about Children's Miracle Network Hospitals and to make a donation, please visit www.ihoppancakeday.com.