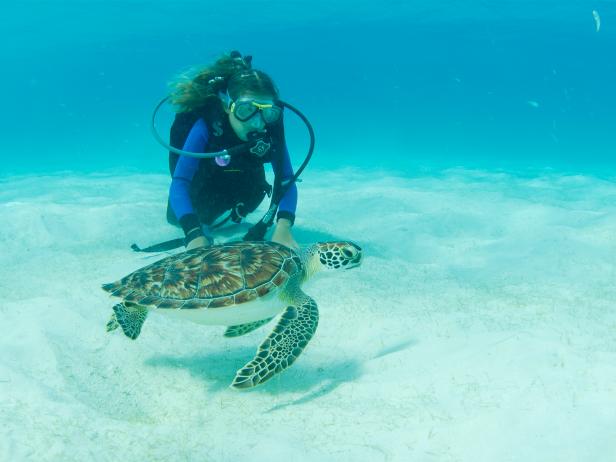 Photo: Kids Sea Camp Inc.
TravelChannel.com has named the top 10 "Travel's Best: Family Adventures" for 2015 for families to create fun-filled, memorable journeys while exploring the globe. Broaden horizons by exploring unknown landscapes – set sail through icy Alaskan waters to see breaching whales or venture through Panama City streets and become enraptured by the architecture and history. From natural excursions to cultural strolls through cosmopolitan cities, this year's list will be sure to please everyone in the family.
TravelChannel.com enlisted a panel of experts to help determine the 10 best family adventures for 2015, including: Heather Greenwood Davis (travel journalist and founder, GlobetrottingMama.com), Rainer Jenns (president and founder, Family Travel Association), Bruce Kirkby (writer, photographer and father, Big Crazy Family Adventure), Kerry Means (family travel writer and blogger, WalkingOnTravels.com) and Nancy Schretter (family and multigenerational travel expert, Family Travel Network).
The 2015 "Travel's Best: Family Adventures" (in alphabetical order by location):
Alaska
Board an Alaskan cruise ship and sail as far away from the U.S. mainland as possible without leaving the country. Experience the natural splendor of America's last frontier and see breaching whales, foraging bears and calving glaciers throughout the Inside Passage. Once you're back on land, rent an RV in Anchorage for a road trip along Kenai Peninsula's Seward Highway, catch your own dinner in Homer – the halibut fishing capital of the world – and make stops at the Alaska SeaLife Center in Seward and Exit Glacier – one of several active ice flows you can hike on in the state.
Argentina
From the beautiful capital of Buenos Aires to the sapphire glaciers of Patagonia, locals are not only interested in meeting your family, but they go out of their way to make your visit pleasant and memorable. Argentina offers an array of family-friendly adventures, such as gaucho day trips at the Don Silvano Ranch, hikes in Tierra del Fuego National Park, kayaking tours from El Calafate, helicopter tours of Iguazu Falls and the unique experience of petting a tiger at the Lujan Zoo in Buenos Aires.
Chicago
The Windy City's world-class museums, art scene and diverse food culture have always been big draws for families. From Shedd Aquarium and the Field Museum to Navy Pier and open-air concerts in Millennium Park, Chicago is an urban family adventure for parents and kids alike. The highly anticipated opening of The 606 – Chicago's answer to New York's High Line – will give families access to more bike paths and walking trails, connecting some of the city's thriving neighborhoods north of downtown. These include Logan Square, Humboldt Park and Wicker Park – where some of the best food is offered and a slower-pace of life equals quality family time.
Ecuador – Galapagos Islands
Everyone who visits the Galapagos Islands is amazed by the diverse wildlife – from lazy sea lions and giant tortoises to blue-footed boobies and curious penguins. There is a strict ecological protection of the area which means visitors get a rare opportunity to see animals unafraid of human proximity. You can let your 6-year-old snap photos of a passing whale and 10-year-old swim above a school of sharks.
Montana – Glacier National Park
Act fast and take the kids to Glacier National Park to see the remaining 25 glaciers before climate change makes them a distant memory. Based on various current predictions, all of the national park's glaciers could be gone in just five to 15 years! This national park is filled with stunning beauty, abundant wildlife, some of the country's most scenic hikes and opportunities for families to explore and learn. After you've had your fill of hiking, horseback riding, fishing, boating and backpacking, spend the night camping out in the park or stay at the historic lakefront Many Glacier Hotel, where children can participate in the park's Junior Ranger program to earn a certificate and a patch.
Panama City
Skip the crowds of Costa Rica and explore Panama City's colonial history, architecture and culture. Casco Viejo, a UNESCO World Heritage Site, is a great spot to pick up souvenirs, indulge in ice cream and enjoy a stroll viewing the old Spanish architecture of Panama. Take the Amador Causeway for great panoramic views and don't forget to visit the Metropolitan Natural Park and the Museum of Biodiversity. More adventures await outside the city. See wildlife on Gatun Lake, take a tour of the Barro Colorado – one of the world's oldest nature reserves – visit an Embera Indian village, go whitewater rafting on the Chagres River or spend a day on one of Isla Contadora's beautiful beaches.
Peru
Peru is one of the top adventure destinations for 2015; known for mystical Machu Picchu, this richly diverse country offers even more for families to explore. In Peru's Sacred Valley, families can go whitewater rafting on the Urubamba River, ride Peruvian Paso Fino horses through small communities and mountain bike along dirt roads to visit ancient salt mines and Incan archaeological sites. Hiking the Inca Trail to Machu Picchu is popular for families with teens and older children, but combine that exciting Andean adventure with a visit to the Peruvian Amazon – a region rich in Amazonian wildlife, natural wonders and unique cultural experiences – and you'll have an exciting expedition to remember for years.
St. Lucia – Kids Sea Camp
Head to St. Lucia for an unforgettable family diving vacation at Kids Sea Camp where children as young as 4 years old can join the Professional Association of Diving Instructors' sanctioned training program and 10-year-olds can acquire certification to SCUBA dive. In between dives, guests can hike through an 18th-century ruin of an old sugar plantation or take a ride on a mountain bike through the rain forest. Family Dive Adventures offers this 6-day/7-night itinerary, hosted by top-ranked resort Anse Chastanet, which provides the best accommodations, fine dining and activities on the island.
Tofino, British Columbia
On Canada's west coast, Tofino has it all – endless beaches, camping, luxury lodges, surfing, kayaking and self-guided hikes in the rain forest. "Take a boat tour to go whale-watching and visit natural hot springs," says Bruce Kirkby, father in Travel Channel's Big Crazy Family Adventure. "But for kids, nothing will beat the beaches. There are miles and miles of sand to explore and, in some cases, there's not a soul in sight." Cap off the family getaway with a hike along the Rainforest Trail at Pacific Rim National Park Reserve and go bear watching, bird watching, kayaking, fishing and surfing.
Tokyo
With Hello Kitty cafes and anime museums, Tokyo is the kind of city where kids' dreams can come true. Between the cartoons they watch at home, the pop culture they're exposed to and the video games they swoon for, this city is where families will find plenty to keep them busy. Despite the modernity, Tokyo also offers more serene adventures – rent a bike to take in the Imperial Palace Grounds, take a local course in the art of origami or practice tai chi for a bit of culture. Venture further outside of the city and hop on the new bullet train as you travel between Tokyo and the Hokuriku region, watching your child's eyes light up as the train approaches speeds of up to 300mph!
For more details on the "Travel's Best: Family Adventures" of 2015, go to:
http://www.travelchannel.com/interests/travels-best/articles/travels-best-family-adventures-2015