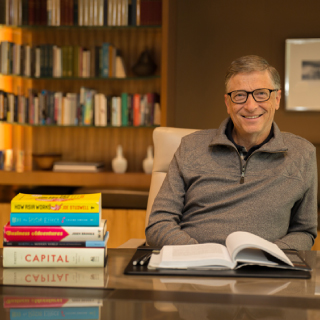 Photo: http://www.gatesnotes.com/
Bill Gates (No. 1) was once again on top as the world's richest person on FORBES' 29th annual ranking of the world's billionaires in the Mar. 23, 2015 issue of Forbes magazine; the technology guru has topped the list for 16 of the last 21 years, with a current net worth of $79.2 billion, up from $76 billion in 2014.
For the second consecutive year Gates beat out telecom mogul Carlos Slim Helu (No. 2) whose net worth increased to $77.1 billion from $72 billion last year. Warren Buffett (No. 3) moved up one slot, with a net worth of $72.7 billion, ahead of Spanish clothing retailer Amancio Ortega (No. 4) (best known for the Zara fashion chain), who increased his net worth $500 million for a total of $64.5 billion.Oracle's Larry Ellison (No. 5) remained in the fifth spot; his net worth increased to $54.3 billion.
A record 1,826 billionaires (up from 1,645 in 2014) made the list, with an average net worth of $3.86 billion (down $60 million from $3.92 billion in 2014).
Added together, the total net worth for this year's billionaires was $7.05 trillion, up from $6.4 trillion last year.
1,191 members, or roughly two-thirds of the list, were self-made billionaires. 230 inherited their wealth; another 405 inherited at least a portion but are still growing it.
Compared to last year's list, Mark Zuckerberg (No. 16), with a net worth of $33.4 billion, made it into the top 20 for the first time.
American gambling tycoon Sheldon Adelson (No. 18) dropped out of the top ten from eighth place last year. His net worth dropped by $6.6 billion, more than anyone else in the U.S. China's government crackdown on graft led to the sudden halt of the explosive gambling industry in Macau, where Las Vegas Sands boss Adelson controls 57 million square feet of resort space in the Asian gambling mecca.
Currency markets and political turmoil have had a significant effect on this year's list, and a strong dollar helped the U.S. while fortunes in Europe decreased due to a weaker euro versus the US$.
Gainers/Losers
The biggest net worth gainer was Warren Buffett (No. 3), whose fortune increased by $14.5 billion for a total net worth of $72.7 billion, as Buffett's Class A Berkshire Hathaway stock eclipsed $200,000 per share for the first time and continued to climb.
The year's biggest loser was Aliko Dangote (No. 67), whose net worth decreased from $25 billion in 2014 to $14.7 billion this year.
Women
A record number of women made the list this year: 197 versus 172 in 2014, representing an increase of 15%. 29 of these women are self-made billionaires.
The U.S. boasted the most women billionaires on the 2015 list, with 67, followed by Germany with 19 and Brazil with 13.
Christy Walton (No. 8) is the highest-ranked woman on the list for the second year in a row, with a net worth of $41.7 billion.
Newcomers/Drop-Offs
This year 290 billionaires were new to the list, another record number, beating out a prior high of 268 newcomers in 2014.
China had the most newcomers, adding 71 to the list. 57 newcomers were from the U.S., 28 from India, and 23 from Germany.
A notable newcomer included the world's youngest billionaire, Evan Spiegel (No. 1250), age 24, of the U.S., with a net worth of $1.5 billion.
The most recognizable athlete of all time, Michael Jordan (No. 1741), is new to the billionaires list, thanks to his well-timed investment in the Charlotte Hornets. He acquired a majority stake in 2010 for $175 million and increased his ownership to 90% in 2013. Then NBA franchise values shot up last year, following the sale of the LA Clippers to Steve Ballmer for $2 billion. Other NBA owners in the billionaire ranks include the Houston Rockets' Leslie Alexander (No. 1190), a returnee to the list, with a net worth of $1.6 billion and the Chicago Bulls' Jerry Reinsdorf (No. 1415), a newcomer to the list, with a net worth of $1.3 billion.
The industry with the most newcomers is food and beverage with a total of 46 billionaires, followed by manufacturing with 38 and healthcare with 34.
California has 131 billionaires, including 23 who are new to the list. Of those newcomers, 9 are under 40 and 7 reside in the Silicon Valley area; 2 are non-U.S. nationals who live in California.
Russia fell back with the greatest number of drop-offs, 28, from a total of 111 billionaires in 2014.
46 billionaires are under 40 this year, including:

Three from Uber:Travis Kalanick (No. 283), 38, and Garrett Camp (No. 283), 36,each worth $5.3 billion, and Ryan Graves (No. 1324), 31, worth $1.4 billion.
Three from Airbnb: Nathan Blecharczyk, 31, Brian Chesky, 33, and Joe Gebbia, 33, all tied at No. 1006, each with a net worth of $1.9 billion.
Two from Snapchat: Evan Spiegel, 24, and Bobby Murphy, 25, tied at No. 1250, each with a net worth of $1.5 billion.
Elizabeth Holmes (No. 360), 31, founder of blood-testing company Theranos, with a net worth of $4.5 billion.
Notably missing from this year's list was U.S. fashion designer Michael Kors and Ukraine President Petro Poroshenko.
Altogether, 138 people dropped out of the rankings, while 19 passed away.