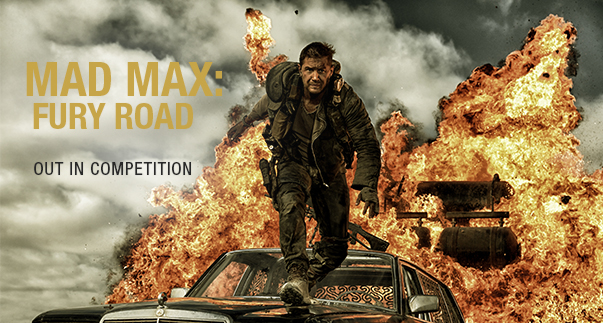 Mad Max: Fury Road is coming to Cannes, where it will be presented in the Official Selection Out of Competition on Thursday 14th May at the Grand Théâtre Lumière. After a gap of 30 years, the hero of the legendary saga returns, this time played by Tom Hardy after his first epoch-making appearance courtesy of Mel Gibson.
The film takes place in a post-apocalyptic world in which gangs clash over scare petrol and water resources. Max Rockatansky, played by Tom Hardy, comes face to face with the Empress Furiosa (Charlize Theron), who is fleeing a gang in hot pursuit…
It also marks the long-awaited return of Georges Miller to the realm of action and science fiction films. The Australian writer launched the series in 1979 before filming Mad Max 2: The Road Warrior (1981) and Mad Max: Beyond Thunderdome (1985).
Australia-born George Miller graduated from medical school in Sydney where during his study years he began to make short films with his associate Byron Kennedy. They went on to set up the Kennedy Miller Company. Their short film Violence in the Cinema, garnered two prizes from the Australian Film Institute, spurring them on to make a feature film, Mad Max (1979), which became a global blockbuster. In 1983, after John Landis, Steven Spielberg and Joe Dante, he directed The Fourth Dimension, the last episode of Twilight Zone: The Movie.
In 1987, George Miller set off for Hollywood to direct The Witches of Eastwick and went on to produce television series, TV films and three feature films: Calme blanc directed by Philip Noyce as well as Flirting and The Year My Voice Broke by John Duigan. He returned behind the camera for Lorenzo – which earned him an Oscar nomination for the Best Original Screenplay. He then bought the rights for Babe (1995) which he adapted and produced. The film picked up seven Oscar nominations including Best Film and Best Adaptation. He followed-up with the unorthodox sequel Babe – Pig in the City and then Happy Feet for which he picked up the Oscar for Best Animated film in 2007. Happy Feet 2 followed in 2011.
Produced by the Kennedy Miller Mitchell Company, Mad Max: Fury Road is distributed internationally by Warner Bros Pictures, and in certain regions by Village Roadshow Pictures.

The film will go on release worldwide following its Cannes preview, on 14th May.