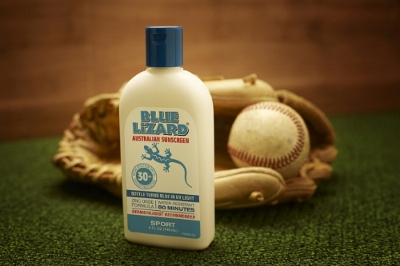 Despite playing in different leagues, the Chicago Cubs and New York Yankees have a common adversary: skin cancer. So to help strike out the most common of all cancers with a proven preventive measure, the Cubs and the Yankees have chosen an official sunscreen: Blue Lizard® Australian Sunscreen.
This winter, the Blue Lizard mascot trekked across frozen Chicago and slushy Manhattan—snapping selfies and group photos promoting one of the easiest ways to prevent most types of skin cancer year round. This month, the Blue Lizard Team appears in sunny Mesa, Arizona and Tampa, Florida to visit Spring Training games of the Cubs and Yankees, respectively. It's an educational mission and all fans at select Spring Training games will get free samples of Blue Lizard sunscreen.
While at the stadium, dermatologist-recommended Blue Lizard Australian Sunscreen is a great protective solution for players and fans alike, but at the core, the mission is to educate everyone about the importance of daily, year-round sun protection.
"As a team whose charity has a focus on health improvements, the Cubs are very pleased to work with Blue Lizard Australian Sunscreen to help prevent skin cancer," said Allen Hermeling, Senior Director, Corporate Partnerships, Chicago Cubs. "We look forward to providing sunscreen directly to our fans as they enjoy our games this spring and summer."
"We are very excited to enter a relationship with Blue Lizard Australian Sunscreen. We look forward to working together to increase protective awareness in our fans, both at Yankee Stadium and in the tri-state area, fighting skin cancer," said Michael J. Tusiani, New York Yankees Senior Vice President of Corporate Sales and Sponsorships.
Blue Lizard fights skin cancer in two powerful ways.
First, Blue Lizard is an SPF 30 broad-spectrum sunscreen made in the United States, using the most stringent Australian standards for skin protection against UVA and UVB rays.
Second, because getting more people to USE sunscreen all the time has always been a challenge, Blue Lizard is uniquely formulated to apply and wear easily without being greasy or scented and is available in five varieties: Blue Lizard Regular, Sport, Sensitive, Face and Baby.