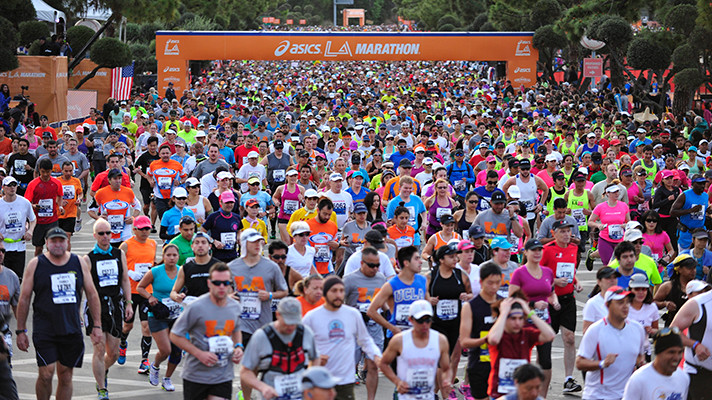 Photo: Discover Los Angeles
For the third year in a row, the famous ASICS LA MARATHON was sold out, with 26,000 runners from all 50 states and more than 55 countries all over the world. The 2015 race is the second largest ASICS LA Marathon field ever and one of the largest marathons in the U.S., and the 10th largest worldwide.
Kenyan Ogla Kimaiyo ran a 5:53 per-mile split for the entire seven miles, earning the $25,000 first-place prize for the women's race. Daniel Limo, a 31-year-old Kenyan, won the men's side of the 30th Anniversary marathon with an unofficial time of 2:10:36.
It was an inspiring morning, with police running in full uniform to raise money for local causes, rehabilitated men and women proving their strength after fighting drug abuse and more. Local news reporters ran alongside runners with uplifting stories, panting as they told their story.
Tracey Russell, Chief Executive of the LA Marathon said, "Completing a marathon is the pinnacle of achievement for runners…. We are honored to host more than 26,000 runners in the city of Los Angeles for the 30th edition of the ASICS LA Marathon."
In commemoration of the 30th edition of the race, 178 Legacy Runners, who have completed every single ASICS LA Marathon since the first race in 1986, were honored with a celebratory race start before they followed the iconic "Stadium to Sea" course from Dodger Stadium to the finish line at the Santa Monica Pier.
For more information on the 2015 ASICS LA Marathon and next year visit: www.lamarathon.com