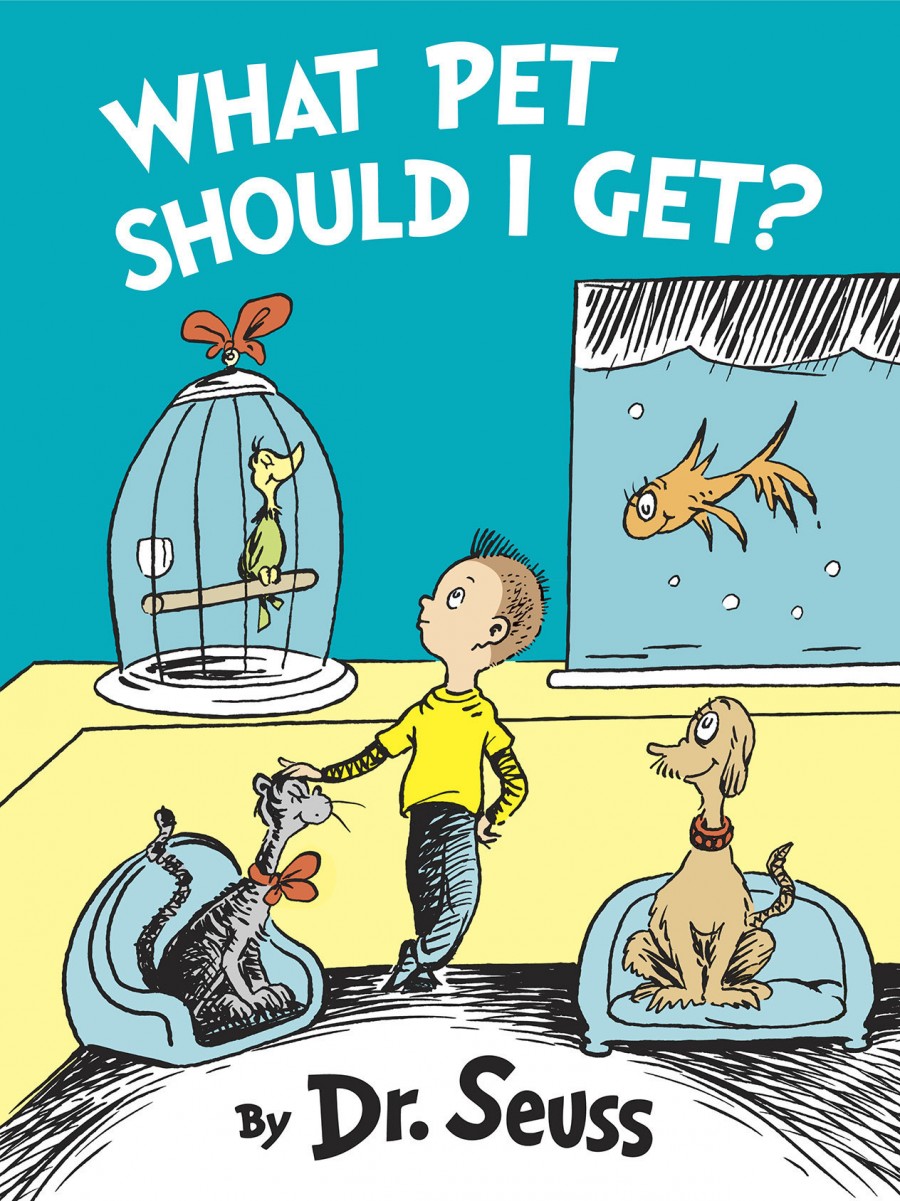 An original manuscript with accompanying sketches by Dr. Seuss, aka Ted Geisel, which was discovered in the La Jolla, California home of the late beloved children's author will be published by Random House Children's Books on July 28, 2015.
A box filled with pages of text and sketches was found shortly after Ted's death in 1991 when his widow Audrey Geisel was remodeling her home. At that time it was set aside with other of Ted's materials. It was rediscovered in the fall of 2013 by Mrs. Geisel and Claudia Prescott—Ted Geisel's longtime secretary and friend. They reviewed the materials, finding the full text and illustrations for WHAT PET SHOULD I GET? among other work.
Dr. Seuss's former Art Director, Cathy Goldsmith said, "We believe that he wrote and illustrated What Pet Should I Get? somewhere between 1958 and 1962—as the brother and sister in the book are the same as those in his bestselling Beginner Book One Fish Two Fish Red Fish Blue Fish which was published in 1960," says Goldsmith. "My connection to Ted remains as vital as it was when we worked closely together years ago—I know he is looking down, watching over the process, and I feel a tremendous responsibility to do everything just as he would have done himself."
At least two more books will be published from the materials discovered, with titles and publication dates to be announced.
"While undeniably special, it is not surprising to me that we found this because Ted always worked on multiple projects and started new things all the time—he was constantly writing and drawing and coming up with ideas for new stories," says Audrey Geisel. "It is especially heartwarming for me as this year also marks twenty-five years since the publication of the last book of Ted's career, Oh, the Places You'll Go!"
"We had no idea what we were in store for when Claudia notified us of the materials discovered in Ted's home," says Brandt. "Pages and pages of manuscripts and sketches were laid out on the big glass dining room table. It was truly a magical moment, and we immediately knew this was more than just a box of sketches."
The text and illustrations for WHAT PET SHOULD I GET? were found nearly complete. Geisel traditionally completed his black-and-white line art illustrations first, with color to be filled in later.
WHAT PET SHOULD I GET? captures the excitement of a classic childhood moment—choosing a pet—and features the brother and sister characters that Dr. Seuss introduced in One Fish Two Fish Red Fish Blue Fish.
"To be able to share this newly discovered Dr. Seuss book that was created during a most prolific period in his career marks a special moment in children's book publishing," says Marcus. "The millions and millions of children and adults who have learned to love reading because of Dr. Seuss can now look forward to adding this treasure to their beloved collections."
The discovered materials will be kept at UC San Diego, where the Dr. Seuss Collection is housed within the Geisel Library.
Previously, Random House released Dr. Seuss stories collected for book publication for the first time, which had appeared only in magazines: (Horton and the Kwuggerbug and More Lost Stories in 2014; and The Bippolo Seed and Other Lost Stories in 2011).
WHAT PET SHOULD I GET? / By Dr. Seuss / On sale July 28, 2015