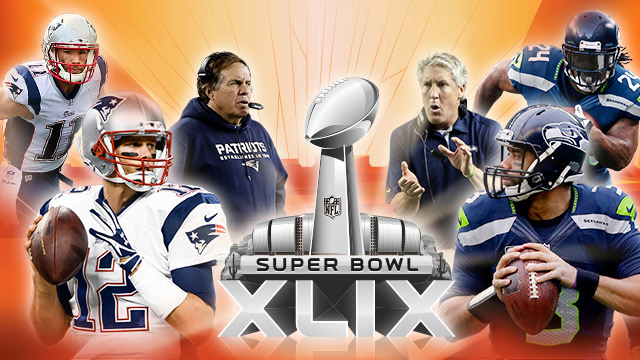 The New England Patriots were gifted with a victory by the Seattle Seahawks in their 28-24 win of Super Bowl XLIX. Tom Brady was named Most Valuable Player, his third time winning the award. The first quarter was a defensive battle with neither team able to score. But New England drew first blood with 9:47 in the second quarter, when Brady connected with Brandon LaFell for an 11-yard TD pass to put them up 7-0. The Seahawks' Marshawn Lynch answered with a 3-yard touchdown run tying the score 7-7. With 2:16 left in the second quarter, Brady found tight end Rob Gronkowski for a 22-yard touchdown putting them up 14-7. But with 31 seconds left in the first half, Seattle went 5 plays and 80 yards when coach Pete Carroll took his first gamble of the game, and instead of kicking the chip-shot field goal before time expired, had quarterback Russell Wilson throw a pass into the end zone where Chris Matthews caught it for an 11-yard score, tying the game 14-14 at the half.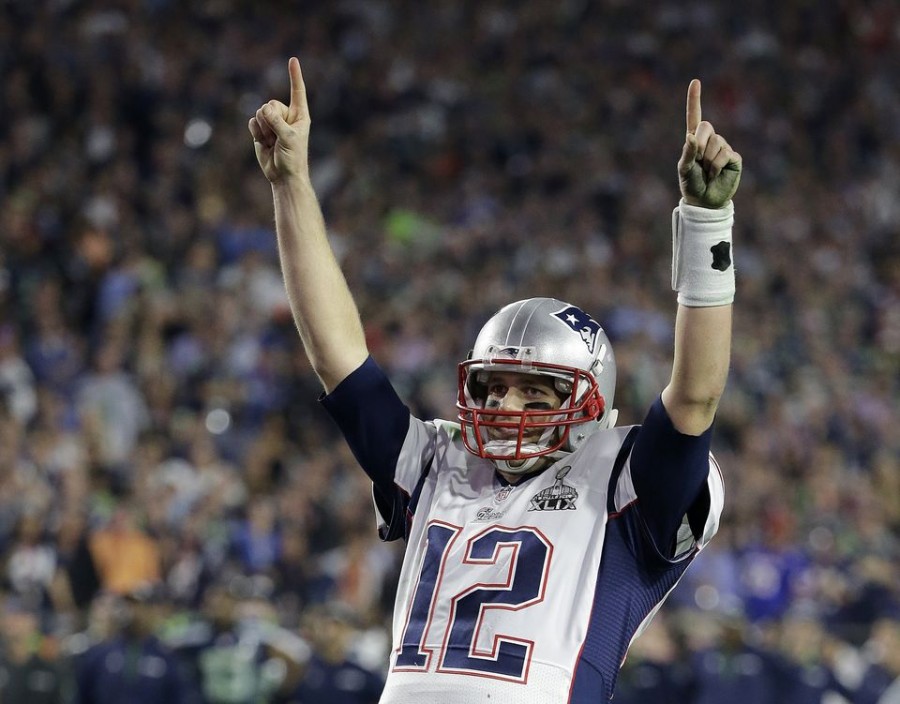 The Seahawks, last year's champions, took a 24-14 lead after a field goal and another touchdown pass to Doug Baldwin. It was Wilson's second touchdown pass of the game.  The Patriots didn't score in the third quarter, but Brady hit Danny Amendola for a 4-yard touchdown with 7:55 seconds left in the fourth, making the score 24-21 and cutting the deficit to just a field goal. Seattle was held scoreless and Brady continued to shred the defense with his passing, finally connecting with Julian Edelman for the 3-yard go-ahead touchdown pass, and only 2:02 left in regulation.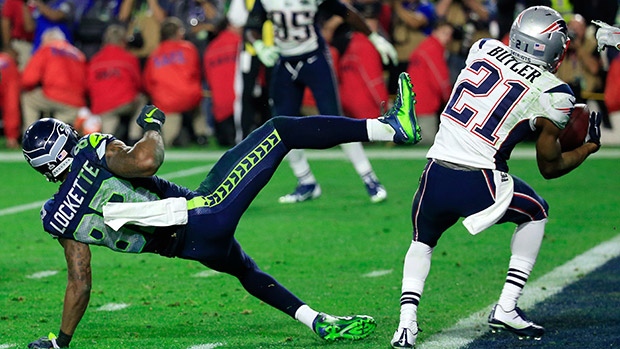 With their backs against the wall facing a 4-point deficit, Wilson threw deep to Jermaine Kearse who made what can only be described as a miracle catch, bobbling the ball several times while on the ground, before finally hauling the ball in for a 33-yard gain putting the ball at the 5-yard line. With 1:06 remaining, on first down, Wilson handed off to Marshawn Lynch, who had already carried for 98-yards, and he bulled his way to the 1- yard line.  After allowing the clock to run down to 20 seconds, coach Pete Carroll called a time out. The situation is: second down, ball on the 1-yard line, with one timeout left and 3 shots to punch it in. What happened next is easily the worst coaching decision in professional sports history, when Carroll gambled for the second time, but this time with disastrous results, to throw a pick-pass to Ricardo Lockette, instead of handing the ball to Lynch who was having a MVP-type game. Rookie strong-safety Macolm Butler stepped in front of Lockette intercepting Wilson's pass and preserving the Patriot's 28-24 advantage to seal Brady and Bill Belichek's fourth Super Bowl victory in six tries. In a demonstration of bad-sportsmanship, Seahawks linebacker Bruce Irvin was ejected in the final seconds for instigating a near-brawl, delaying the Patriot's celebration.
Among Tom Brady and Bill Belichek's many accomplishments, this one should vault them to the greatest coach-quarterback combo in NFL history.
By Kyle Edwards