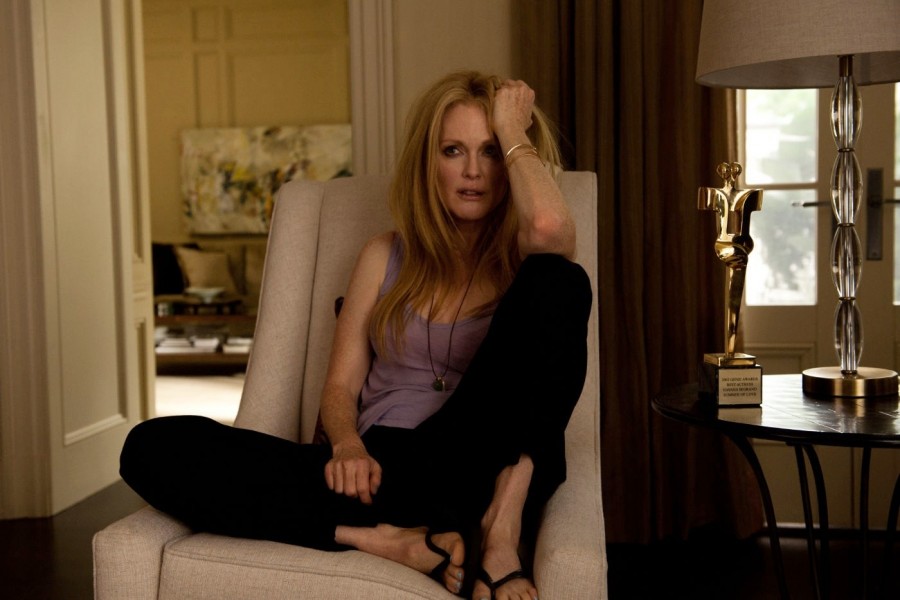 It's no secret that beyond the glitter and glamour of Tinseltown is a warped world with enough skeletons in the closet to fill a cemetery. This land of ego, envy and ruthlessness run amok is the sordid stomping ground of "Maps to the Stars," a satire with a spooky center starring Julianne Moore, Mia Wasikowska, Robert Pattinson and John Cusack.
From celebrated auteur David Cronenberg ("A History of Violence") and screenwriter Bruce Wagner, this genre-bending slice of morbid fatalism functions best as a darkly comic insider's guide on how to sell your soul in Hollywood, with some psychological thrills as an added bonus. At turns hilarious and haunting, the film's disparate elements may never quite add up to a cohesive whole, but there is certainly enough caustic humor, plot revelations and quality performances to justify traveling down "Maps'" twisted roads.
The delusional world of "Maps to the Stars" is centered around the famous Weiss family. There's patriarch Stafford (John Cusack), a prominent self-help guru to the stars; Cristina (Olivia Williams), his manager wife; and Benjie (Evan Bird), a child actor and enfant-terrible who makes Justin Bieber look like a saint by comparison.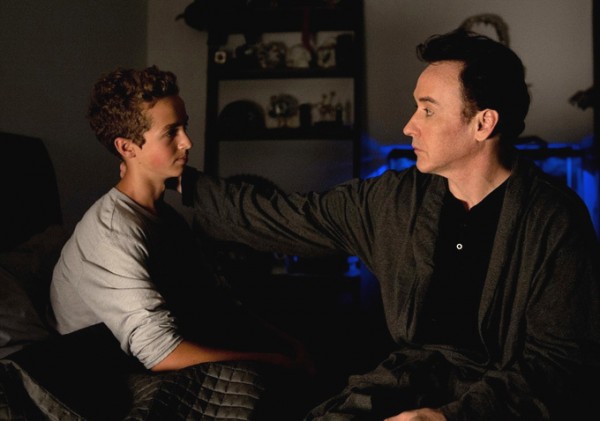 A thirteen year-old fresh out of rehab for an Oxy addiction, Benjie and his manager mom's main order of business is demonstrating to the studio bosses that he's fit to star in the sequel to his smash hit, "Bad Babysitter." While they await approval, Stafford applies his absurd brand of new-age therapy to his celebrity clientele, most notably Havana Segrand (Julianne Moore), a fading actress haunted by the ghost of her mother (Sarah Gadon), who died tragically in a fire.
As Havana attempts to resurrect her career in a role made famous by her actress mother, she comes into the orbit of another person linked to fire, Agatha (Mia Wasikowska), a mysterious burn victim. Fresh off the bus from Jupiter, Florida, Agatha claims to be in town to meet her Twitter pal, actress Carrie Fischer, who befriended her while researching burn victims for a novel, but actually has more malevolent aims in mind. Based on Carrie's recommendation, Havana hires Agatha as her personal assistant, which in turn sets off an irreversible chain of events involving ghosts, incest, and a doomed fate for all involved.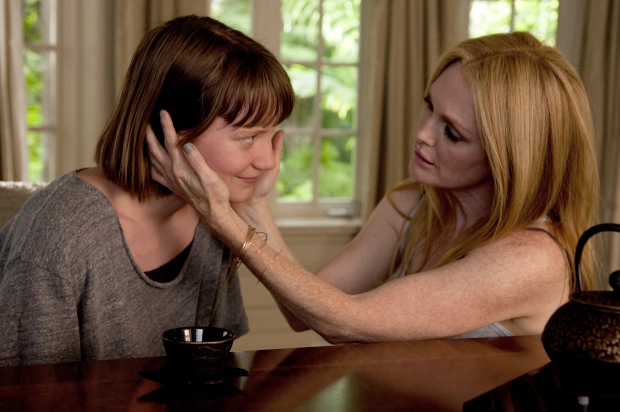 You've seen Hollywood turn the lens on itself plenty of times before, from "Sunset Boulevard" and "The Bad and the Beautiful" to "The Player" and, most recently, the Oscar-winning "Birdman." And while these films haven't shied away from the darker corners of this superficial world, it's never been taken to such unearthly extremes as depicted here. Shooting for the first time in the United States, Canadian filmmaker David Cronenberg and his longtime cinematographer Peter Suschitzky subtly bring the story's artificial qualities into focus by staging scenes in some of the city's more touristy locations (studios, trendy nightclubs, the Walk of Fame). This satirically postcard portrayal of the city is then offset by the characters' disturbing visions of ghosts and punctuated with a hair-raising score by Howard Shore.  
Although Bruce Wagner's screenplay takes too many supernatural left turns, the film finds its footing when it focuses on skewering the Hollywood elite, peeking behind closed doors of power meetings, therapy sessions and on-set squabbles.
Despite the storyline's unevenness and unsettling psychological undertones, "Maps to the Stars" is invigorated by the performances from the ensemble cast. Playing desperate actress Havana Segrand, Julianne Moore is outstanding in a role that could've easily veered into caricature in the hands of a lesser talent. In fact, she already landed a best actress nomination at this year's Golden Globes for this very performance (the film had a brief Oscar-qualifying run prior to the January 1st deadline). As for the others, Mia Wasikowska masterfully straddles the line between cute and crazy; Robert Pattinson shines as an actor-screenwriter making ends meet as a limo driver; John Cusack is aces as a man whose ambition knows no bounds; and Evan Bird is an absolute riot as the Bieber-esque teen heartthrob with a penchant for bad behavior.
Most suitable for the open-minded indie crowd, "Maps to the Stars" may not be Cronenberg's best film, but it leads audiences down one enjoyably irreverent path.
By Lucas Mirabella
Running Time: 112 minutes
Rated R for strong disturbing violence and sexual content, graphic nudity, language and some drug material.
http://www.focusfeatures.com/maps_to_the_stars