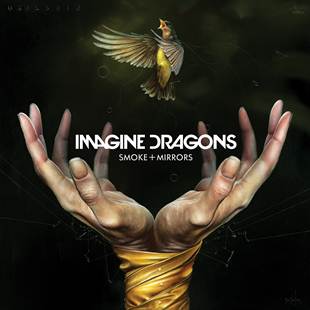 Smoke + Mirrors — the new album from multi-platinum, GRAMMY® Award-winning rock band Imagine Dragons — debuts at No. 1 on the Billboard Top 200 album chart this week, bowing with over 194,000 album equivalent units. It also shifted more units than any other album this week. Imagine Dragons currently has two albums in the Billboard Top 200, as its double-platinum 2012 debut, Night Visions, is at No. 20 and has been on the chart for 129 weeks. Smoke + Mirrors also sits atop the album charts in Canada and the U.K., earning Imagine Dragons its first No. 1 album in both territories.
 
Imagine Dragons wrapped up its Destination Dragons presented by Southwest Airlines® tour, which saw them giving back to their loyal fans by performing intimate concerts at small clubs in four cities that hold a special place in the band's history.
The shows took place in Los Angeles, Provo, the band's hometown of Las Vegas, and tonight in Atlanta. Watch highlights from the band's recent show at Provo's Velour HERE. Back in the early days of Imagine Dragons, the band played several dozen shows at this Provo club.
 
Imagine Dragons are also gearing up for their 2015 SMOKE + MIRRORS TOUR, which kicks off on June 3rd in Portland, Oregon and visits cities throughout the U.S. and Canada before wrapping up on August 1st in Boise, Idaho. Tickets are on sale now at www.livenation.com.