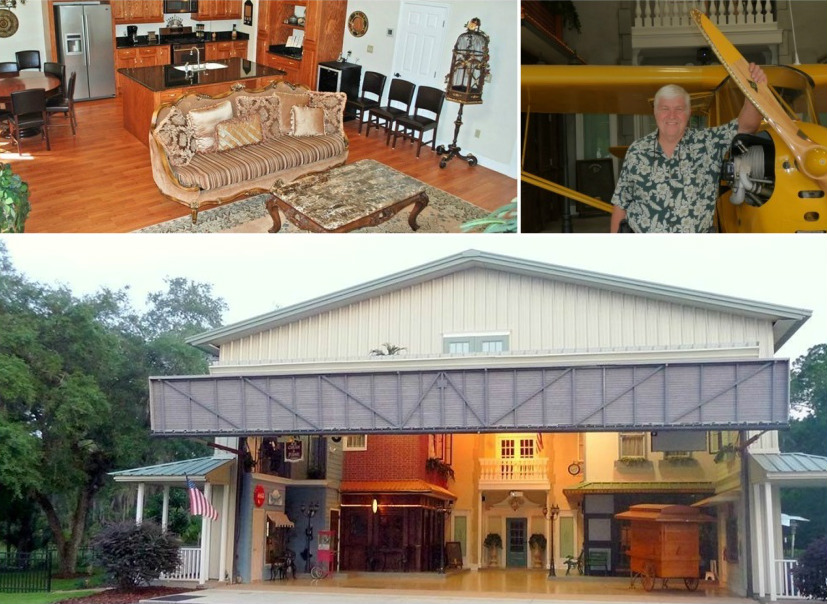 Over the holidays, I was watching HGTV when I came across Danville, a tiny town built inside a 3000 square feet hangar.
Danville is the creation of Dan Shaw and his wife Deborah. They set out to build a guest house on their private airstrip in Geneva, Florida. The door of the hangar was transformed into a wrap-a-round porch. It is operated by a remote control which when activated the entire front of the building raises to reveal downtown Danville.
To the left on Main Street is Lily Marlene's. The sign and façade behind was once a restaurant that was located at Church Street Station, a tourist attraction of early Orlando. Further along Main Street is O'Shaw's Irish Pub, a fully functional pub with a 10' antique oak bar. Bar stools and table from Townsend's Plantation, another attraction from the early days.  A gas fireplace and dartboard add to the feeling of a pub of the 40's.

Across Main Street is Danville Wash-a-teria, a working laundry for guest use. Next door to Danville City Hall (which Dan is the Mayor of) is his office. At the end of Main Street is the Danville Inn a single-occupancy bed-and-breakfast with two rooms where you can spend the night.
The Library Room is downstairs adjacent to the parlor.  It has a sitting area.  The window has a beautiful view of the courtyard featuring a cherub fountain.  The large bathroom with a walk-in shower.
Upstairs is the Master Suite with a king-sized poster bed which is accessible from an oak winding staircase or a private elevator.  A balcony overlooking downtown gives a wonderful vantage point to see the 15'x15' drive-in movie screen at the end of town (which is actually the back side of the 45' front door). Over the past two years, Danville has been the venue for dozens of weddings, anniversaries, parties and other large events. And many of those guests end up spending the night at the Danville inn.
So if you are ever near Geneva, Florida, stop by Danville, one of the most unique "towns" in the world.
http://www.danvillebnb.com
 
stay@danvillebnb.com