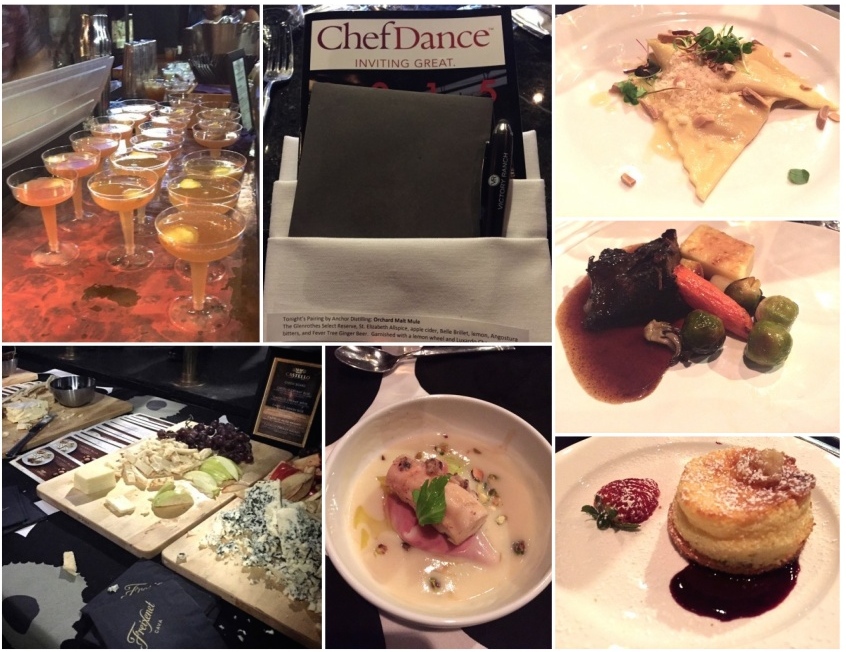 Chefdance oh how we love thee…
If this sounds like a love letter to Chefdance, that's because it is. For those of you that don't know what Chefdance is, world renowned chefs are flown in to cook a 4 course dining experience for Sundance-goers. It's a coveted ticket and we were there to cover it for LATF.
We attended the 5th and final Chefdance evening, honoring the casts and crews of THE STANFORD PRISON EXPERIMENT and TAKE ME TO THE RIVER. Before the main dinner began, diners enjoyed unique signature cocktails by Anchor Distilling, sparkling wine by Freixenet Spanish Cava, coffee by Tim Hortons Café & Bake Shop, beer by Stella Artois, water by VOSS and delicious cheese samplings by Castello. While all of the cheeses were delicious, we found ourselves coming back to the Castello Creamy White over and over.  
And before we knew it, we were whisked into the dining hall and seated for our meal. After a few introductory words by Kenny Griswold and Mimi Kim (Chefdance founders) we were served our meal, menu prepared by Paolo Dorigato of DOLCE Italian (Miami, FL).
Amuse: First Course
Roasted Octopus
Celeriac, mortadella, mâché, Marsala reduction
Second Course
Pumpkin Tortellacci
Amaretti, Butternut squash
Third Course
Brasato al Barolo
Roasted winter vegetables, gnocchi alla romana
Dessert
Ricotta Cheesecake
Honeycomb blueberries
Halfway through the evening, we were served a drink pairing by Anchor Distilling (with a festive straw):
The Glenrothes Select Reserve, St. Elizabeth Allspice, apple cider, Belle Brillet, lemon, Angostura bitters, and Fever Tree Ginger Beer. Garnished with a lemon wheel and Luxardo Cherry.
In addition to honoring the films of Sundance, the final evening was dedicated to The Himalayan Cataract Project (http://www.cureblindness.org). Through auction and donations, over $25,000 was raised for this worthy cause. All diners were given copies of Second Suns, a book by David Oliver Relin, gift cards to reserve.com, socks by Stance, and a few lucky diners walked away with special gifts from Victory Ranch.
By Jesse Einstein & Stephanie Tucker, reporting at Sundance for LATF