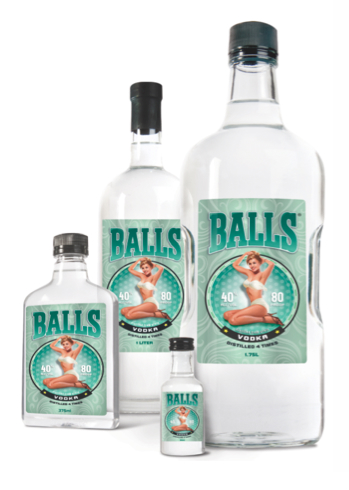 Even with over 18 years of experience in the spirits business, striking out on your own is still a ballsy move. That is exactly what Yoav Sisley, the man behind the Balls Vodka brand did. The pitch perfect name Sisley gave to his very first foray into making a custom spirit speaks volumes about his 'take no prisoners' approach to building a successful liquor empire.
Since its 2011 inception, Balls Vodka has become one of the premium spirit of choice for gatherings. Sisley frequently hosts creative events and vodka tastings while negotiating new business partnerships to spread the spirit of his bold and brassy brand.
 
Known for its full-bodied, smooth flavor profile and exceptionally clean finish, Balls Vodka can easily be consumed on the rocks or with your favorite mixer. Vodka as a spirit has long been a bartender and bar fan favorite due to its tasteless, colorless, and odorless qualities.
 
Balls Vodka is a gluten-free, non-GMO corn-based vodka that is distilled four times for maximum palette agreeability. While distillation takes place in the Midwest, the diluting process—one of the most important steps in vodka making—is done in Rochester, New York. It is of the utmost important to the overall flavor of any vodka that it is diluted with the purest, cleanest water available. When this isn't done, the result is an unpleasantly strong ethanol taste. Less refined vodkas do not play well on the palette and often leave a disagreeable burn in the back of the throat. But Balls Vodka not only has big flavor, it boasts an incredibly smooth mouth feel that goes down effortlessly, pleasant to the taste.
Ballsy Mary
 
2 oz Balls Vodka
6 oz Tomato juice
2 tbsp Olive Oil
½ tbsp. grated Horse Radish
½ tsp Sriracha
1tbsp Lemon Juice
Dash of Pepper
Lemon wedge & celery Stalk
 
Love Balls
1 oz Balls Vodka
1 drop of Grenadine
Srite or 7up
Cranberry or Cherry Garnish
 
Cosmo Balls
1 oz Balls Vodka
.5 oz Triple Sec
.5 oz Cranberry Juice
.05 oz Lime juice
To learn more visit: http://ballsvodka.com/