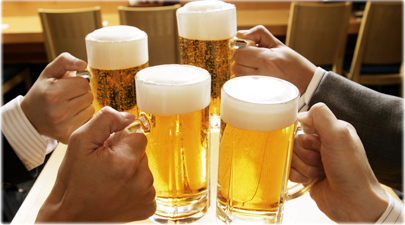 Southwest Airlines announced that two new beers will be taking to the skies. The airline will stock Leinenkugel's seasonal craft beers in addition to Dos Equis Lager Especial onboard every flight with a price point of $5 or a valid Southwest Business Select or Rapid Rewards drink coupon per beer. And it's not just beer that's taking off—Southwest Airlines is also transitioning to honey roasted peanuts that Customers can enjoy throughout 2015.
"We're always striving to improve our Customer experience onboard, and the addition of these two beers gives our Customers unique options while on our flights," said Mike Hafner, Southwest Airlines Vice President Cabin Services. "Dos Equis is the perfect beer to complement our new international service, and Customers will be able to sit back and enjoy Leinenkugel's seasonal offerings."
Leinenkugel's will be the first beer Southwest offers on a rotating seasonal basis. Each season, the airline will replace its offerings with the current seasonal beer from the Chippewa Falls, Wisconsin brewery. Leinenkugel's Snowdrift Vanilla Porter will start the rotation for the colder months, followed by Summer Shandy as warm weather approaches, and transitioning to Oktoberfest in the fall.
"At Leinenkugel's we have been crafting beers in Chippewa Falls, Wisconsin, for six generations," said Dick Leinenkugel, President and Chief Beer Merchant of Jacob Leinenkugel Brewing Company. "We are delighted that Southwest has chosen our seasonal line of beers to offer their customers. LUV and Leinie's are in the air!"
Southwest's beer offerings now include the following:
Miller Lite
Bud Light
Fat Tire
Leinenkugel's
Dos Equis Lager Especial
In addition to beer, wine, and liquor, Southwest Airlines offers free non-alcoholic refreshments such as soft drinks, water, and coffee onboard all flights, along with peanuts and pretzels. A heartier snack is offered to Customers free of charge on longer flights. Click here to see the current Southwest Airlines inflight menu.