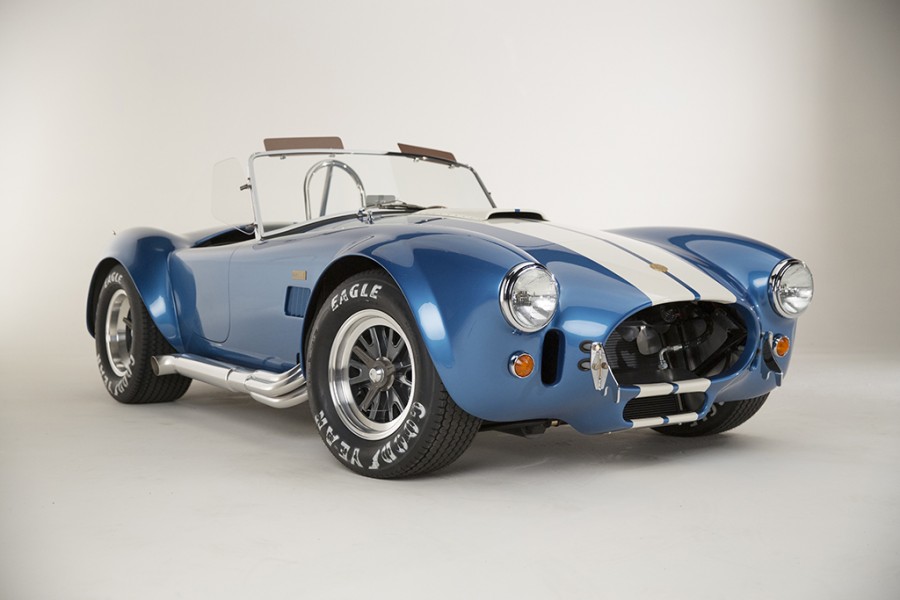 The entire run of 50th Anniversary Shelby Cobras from Shelby American sold out within 48 hours of its public unveil at the Barrett-Jackson Auction in Scottsdale, Ariz., on Tuesday, January 13th. The limited run of 50 cars was announced on Dec. 30, 2014, and subsequently sold out after being officially unveiled at Barrett-Jackson.
"The passion for these cars proves that the Shelby Cobra is as relevant today as it was 50 years ago," said Joe Conway, Co-CEO of Carroll Shelby International and CEO of Shelby American. "The car literally blew everything else away on both the street and track, where it won the SCCA's 'A' production class in 1965. The big block Shelby earned its place in history as one of most iconic and exciting cars in the world."
Shelby American launched the big block Cobras specifically to conquer all other sports cars on Jan. 25, 1965. The 50th Anniversary Editions (serial numbers CSX4550 to CSX4599) incorporate safety and performance improvements without sacrificing originality. The 50th Anniversary Edition Cobras retain the authentic style coil spring independent suspension, but are upgraded to contemporary standards while the bodies are available in aluminum or fiberglass.
The Anniversary Edition continuation big block Cobras will all be painted Guardsman Blue with Wimbledon White stripes, equipped with a premium black leather interior, special badges, modern brake discs and a stronger frame. The 50th Anniversary Edition 427 Shelby Cobra begins at $119,995 for a fiberglass or $179,995 for an aluminum bodied car, without the drive train. Each is a component vehicle that is built to order and can be finished by a customer or authorized dealer and delivered as a rolling chassis.
Each anniversary Cobra will be documented in the 'Shelby World Registry' alongside the original 343 built by Shelby American in the 1960s.