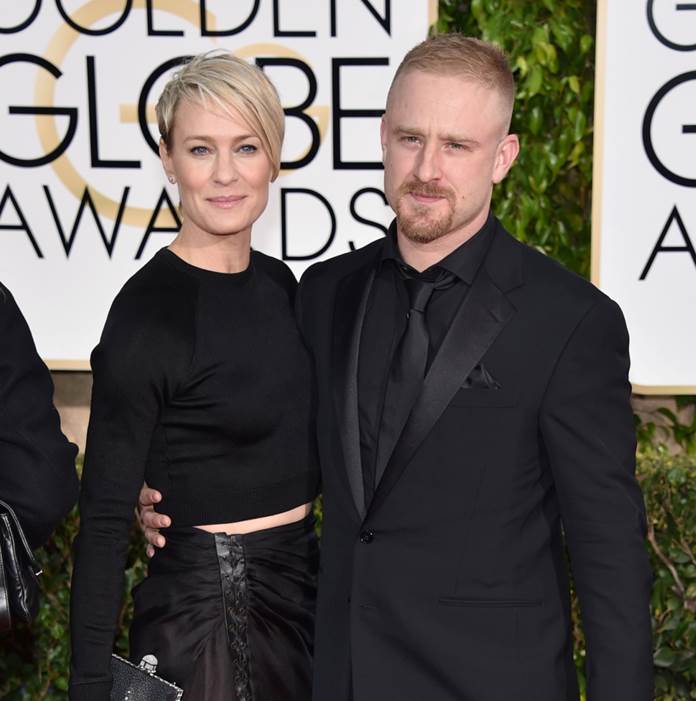 Celebrity makeup artist Tricia Sawyer created the look for Robin Wright for the 2015 Golden Globes tonight using Orlane products. 
Sawyer said, "Robin is wearing a gorgeous long-sleeve, two-piece Ralph Lauren dress that shows a peek of her midriff.  It has a beautiful, long flowly skirt that shows off her fantastic leg, so the look we decided to go with tonight was all about a classic look, with polished, glowing skin.
I started out by prepping her skin with Orlane Brightening Micellar Water which was really great to cleanse the skin but was also really hydrating.  Then used three pumps of the Anti-Aging Oxygenation System and applied it to her face and neck.  I'm a huge fan of this product and use it on my clients AND myself – what it does for the texture and tone of the skin is just amazing!
It's so important to properly hydrate the skin, especially if you're going to put makeup over it and want it to last all night.  The more hydrated the skin, the less the skin tries to absorb the makeup.  I applied Orlane Absolute Skin Recovery Masque lightly all over the face, pressing it into the skin with my hands which helps it to absorb better and stimulates the skin.
For the base, I applied the Orlane Teint Absolue in Shade 13 (launching Spring 2015).  It is an amazing foundation because it gives great, buildable coverage but is still really hydrating.  For her eyes, we kept it simple with black liner on top, Sonia Kashuk Dramatically Brightening Eye Pencil in White on the inside of the eyes, Orlane Volume Care Mascara and individual eye lashes to open up the eyes, and great brows using Dior Universal Brow Pencil.
To give some color to the face, I dusted on a blush and used Orlane Bronzer to lightly contour her cheekbones and jaw.  Then I went back and dusted Orlane Transparent Loose Powder where needed to keep the makeup in place all night."