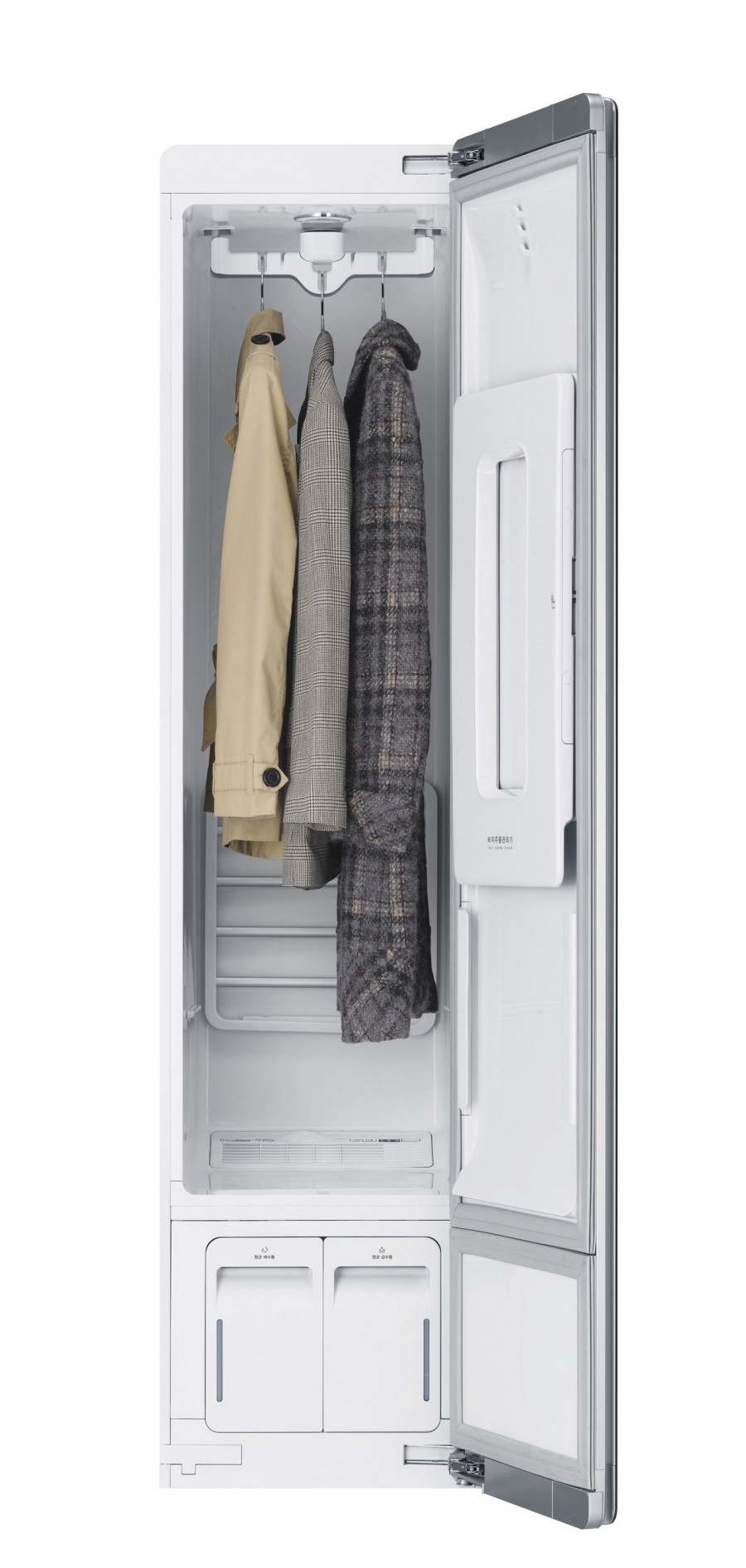 LG Electronics will introduce an updated, advanced version of its one-of-a-kind clothing management system, "LG Styler," at the 2015 International CES®. The impressively compact, more affordable LG Styler is designed to refresh clothes without water or detergents, providing an ideal solution for hard-to-maintain clothes such as suits, coats and sweaters.
"The busier our lives become, the more difficult it is to take proper care of our wardrobe," said Dave VanderWaal, head of marketing for LG Electronics USA. "Professional cleaning services are not only costly, but they can also harm your clothes over time. The LG Styler is a great complement to such services and helps consumers take greater control over their wardrobe, keeping coats, sweaters, blouses and other delicates looking and feeling their best."
Equipped with a range of features not found on any washing machine, the latest LG Styler freshens up clothes and fabrics both quickly and conveniently. The LG Styler's Odor Removal feature uses steam to help remove unpleasant odors left behind by smoke, food and sweat, and, depending on individual tastes, users can choose between two different aroma sheets that provide refreshing, subtle scents.
The Quick Refresh function keeps clothes looking, feeling and smelling fresh, while Moving Hanger Action gently shakes steamed items to remove everyday wrinkles. What's more, with the new Easy Pants Crease Care feature, a pair of pants can be refreshed and a perfect crease created in about half an hour. The new LG Styler also features a built-in heat pump, which generates and maintains warm air at a low temperature to keep clothing from shrinking or being damaged while drying.
The LG Styler also provides effective sterilization with TrueSteam™, LG's hot steam spray technology, which LG pioneered in washers and dryers. With a simple touch of a button, hot steam is released to eliminate 99.9 percent of the germs and bacteria that can live deep inside clothes and soft toys.1 Respected product testing organizations, including the British Allergy Foundation (BAF) and the Korea Apparel Testing & Research Institute (KATRI), have tested and verified the effectiveness of the LG Styler's steam sterilization feature. Tests carried out by Intertek also revealed that the LG Styler eliminates approximately 92 percent of Perchloroethylene — the main chemical left on clothes after dry cleaning and a possible carcinogen — during a full 90-minute sterilization cycle. 2