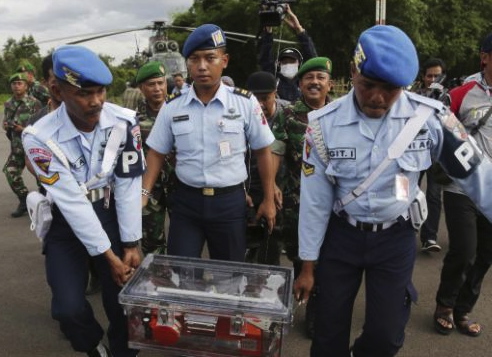 Photo: news.yahoo.com
The Cockpit Voice Recorder of AirAsia FlightQZ8501 aircraft has been found and lifted from the seafloor this morning. The CVR was found at a distance of approximately 20 meter from the location where the flight data recorder was found on Monday.
Following this finding, BASARNAS confirmed that both parts of the aircraft's blackbox (flight data recorder and cockpit voice recorder) have been evacuated and flown to Jakarta for further investigation by Indonesia's National Transportation Safety Committee (KNKT).
Meanwhile in Surabaya, BASARNAS chief, Marshal Bambang Soelistyo visited the crisis center in East Java Region Police Headquarter this afternoon to have a direct dialogue with the families and loved ones of QZ 8501's passengers and crew.
During the dialogue, Bambang Soelistyo assured the family that the main SAR operation is still on-going and their main priority is to search and recover the passengers despite weather and underwater current challenges faced by the SAR team.
The Disaster Victim Identification Police Department Republic of Indonesia (DVI POLRI) announced that two more passengers have been identified as: Oscar Desano (male) and Yuni Astutik (female) today.
To date, BASARNAS has confirmed to have recovered a total of 48 remains of which 36 remains have been identified by DVI POLRI and 12 remains are still being identified.