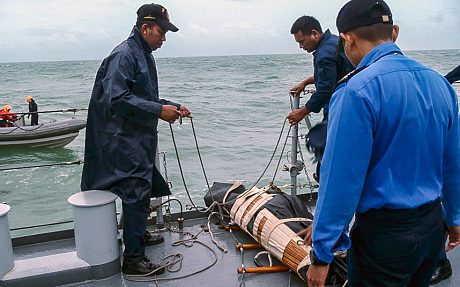 Photo: http://www.telegraph.co.uk
AirAsia enters the the seventh day of search and rescue mission for Flight QZ 8501. The National Search and Rescue Agency Republic of Indonesia confirmed that they have recovered 30 remains from the search area. The search process is still underway with the Russian SAR team joining the mission.
The officials have also announced that sonar equipment detected two large objects on the ocean floor which may be the wreckage of AirAsia flight QZ8501.
The 12 remains consisting of 9 male and 3 female arrived Saturday at Bhayangkara Hospital, Surabaya to undergo the identification process.
In addition, the Disaster Victim Identification Police Department of Republic of Indonesia (DVI POLRI) confirmed two remains of QZ 8501 passengers which were identified as Hendra Gunawan Syawal (male) and The Meiji Thejakusuma (female).
To date, DVI POLRI has identified a total of six passengers while the 24 remaining remains are still being identified. DVI POLRI also confirms that the remains identification process will be supported by DVI experts from Singapore and South Korea.