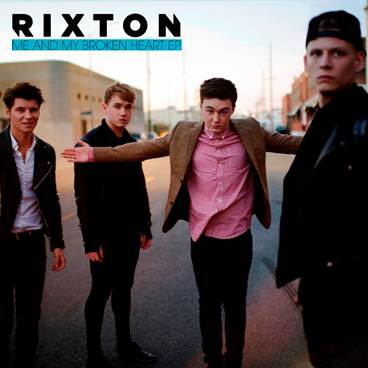 During their appearance this morning on The TODAY Show, British band Rixton announced that they will hit the road for a summer headlining tour of the U.S. that kicks off on July 30th in Boston. The "Broken Heart Tour" will find them hitting major cities across the U.S., including New York City and Los Angeles, with special guest, rising artist T. Mills who recently released his All I Wanna Do EP featuring the upbeat party single of the same name.  Advance access to tickets will be available at www.rixtonband.com beginning Tuesday June 3rd at 10am (local time).  Rixton's six-show mini tour this month found them selling out shows within 30 minutes.
 
In March, Rixton released their debut EP Me And My Broken Heart featuring their buzzworthy single of the same title, which has sold more than 500,000 downloads and is Top 10 at Pop radio while impacting Hot AC, Rhythmic, and AC. "Me And My Broken Heart" also ranks as a No. 1 Most Shazam-ed new track in the U.S.
Hailing from Manchester, Rixton are Jake Roche, (vocals/rhythm guitar), Danny Wilkin (bass/keys), Charley Bagnall (lead guitar), and Lewi Morgan, (drums). Jake and Danny began writing together four years ago in Danny's parents caravan. Three years later they were introduced to Charley through mutual friends and a year later stumbled upon Lewi in a back alley of a Manchester pub (playing pots and pans) and asked him to join the band. Inspired by the soulful pop sounds of Maroon 5 and Bruno Mars, Rixton offer up a wealth of addictive pop/rock/R&B built on their own brand of songwriting, instrumentation, and vocal harmonies. The band has been steadily gaining a large YouTube following from their reimagined covers of tracks including Taylor Swift's "Trouble," Rita Ora's "How We Do (Party)," Chris Brown's "Don't Wake Me Up," and R. Kelly's "Ignition," eventually catching the ear of talent manager Scooter Braun. Working with Grammy-winning producer Benny Blanco, Rixton are set to deliver their debut album on School Boy/Giant Little Man/Mad Love/Interscope Records later this year.
Tour Dates:
07/30/14          Boston, MA                  Paradise Rock Club
08/02/14          New York, NY              Irving Plaza
08/05/14          Philadelphia, PA          The Theatre of Living Arts
08/06/14          Washington, DC          The Fillmore
08/07/14          Toronto, ON                The Mod Club
08/11/14          Minneapolis, MN         The Garage
08/13/14          Saint Louis, MO          The Ready Room
08/15/14          Denver, CO                 Gothic Theatre
08/18/14          Vancouver, BC            The Rio Theatre
08/19/14          Seattle, WA                 The Crocodile
08/21/14          San Francisco, CA      Slim's
08/23/14          Los Angeles, CA         The El Rey
 
 
http://www.rixtonband.com