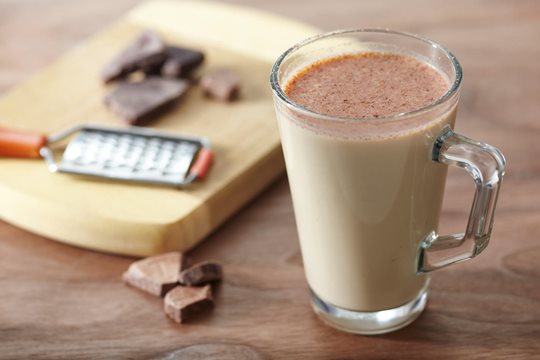 The winter weather has hit every part of the country, even here in California. To keep warm, here are some winter warmer drink recipes from uk.thebar.com. From Hot Apple Bite to Irish Cream Hot Chocolate, there's something for every spirit taste.

Hot Apple Bite by Smirnoff
1.9 units of alcohol per serve
Ingredients
50ml. Smirnoff® Gold
200ml. Apple Juice
2tsp Brown Sugar
1tsp Apple Purée
1slice Apple
1piece Crushed Biscuit
Method 
Place all ingredients in a saucepan.
Warm the mixture and stir together thoroughly.
Pour the mixture into a glass mug.
Garnish with a slice of apple and crushed biscuit.
Baileys Original Irish Cream Hot Chocolate
0.8 units of alcohol per serve
Ingredients
50ml. Baileys® Original Irish Cream Liqueur
150ml. Hot Chocolate
1piece Whipped Cream
1 shaving Chocolate Shaving
Method 
Pour Baileys Original Irish Cream Liqueur and hot chocolate into a glass.
Garnish with whipped cream and chocolate curls.
Spiced Cider
1.9 units of alcohol per serving
Ingredients
50ml. Captain Morgan Original Spiced Gold
80ml. Apple Juice
2dashes Angostura Bitters
3pieces Star Anise
4buds Clove
2tbsp Sugar or Maple Syrup
Method 
Pour Captain Morgan Original Spiced Gold, apple cider, angostura bitters, star anise, cloves and sugar into a saucepan.
Heat until the sugar has dissolved.
Pour into a glass.