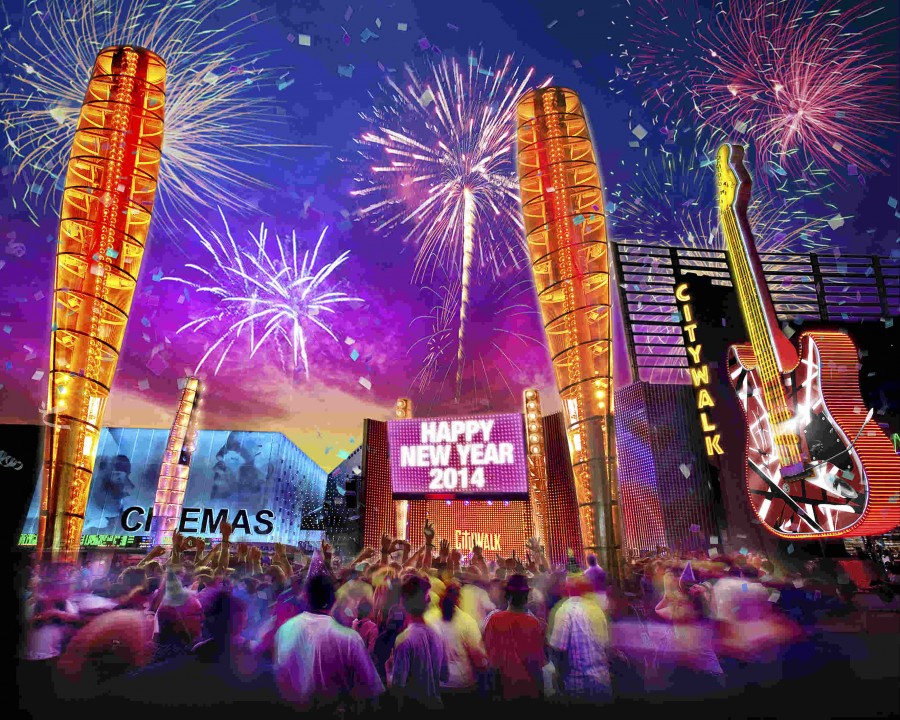 The countdown to 2015 begins with Universal CityWalk's all-new "New Year's Eve Movie Night" celebration at the CityWalk AMC Theatres, featuring five of Universal Pictures' most iconic films, including "Jurassic Park," "E.T. The Extra Terrestrial," "Back to the Future" and a double feature of "Dracula" and "Frankenstein."
The New Year's Eve festivities will include a red carpet entry and live DJ dance party with appearances by such favorite Universal Studios Hollywood characters as the Minions, Doc Brown, Dracula, Frankenstein and the quintessential Hollywood icon, Marilyn Monroe, in honor of the theme park's 50th anniversary.
Admission tickets are $25 per adult and $15 per child and include a movie ticket to the selected film, the DJ countdown dance party, complimentary soft drink, all you can eat popcorn and a New Year's Eve goodie bag. The "New Year's Eve Movie Night" event will take place on the 2nd level of the AMC Theatres.
In addition to "Movie Night," revelers can celebrate in style at any one of Universal CityWalk's many restaurants and nightclubs offering a variety of festive New Year's Eve private parties, including Howl at the Moon, Infusion Lounge, Jillian's Hi Life Lanes, Saddle Ranch Chop House and Wolfgang Puck Bistro.  
During the construction phase of its epic transformation, Universal CityWalk is modifying its traditional New Year's Eve celebration and will not include fireworks and outdoor concert performances. 
More information about Universal CityWalk is available at www.CityWalkHollywood.com. Regular updates also can be found on CityWalk's Twitter @CityWalkLA, Facebook page Universal CityWalk Hollywood and Instagram @CityWalkLA.
Universal CityWalk is Southern California's dynamic entertainment, dining and shopping destination that reflects the area's rich cultural diversity. The iconic open-air leisure and nightlife complex provides "Always Unexpected" entertainment options and has served as a prototype for similar destinations. Universal CityWalk includes the high-tech concert venue, "5 Towers," L.A.'s best movie-going experience at the CityWalk AMC Theatres and unique venues such as Infusion Lounge, iFly indoor skydiving and mechanical bull-riding at Saddle Ranch Chop House.