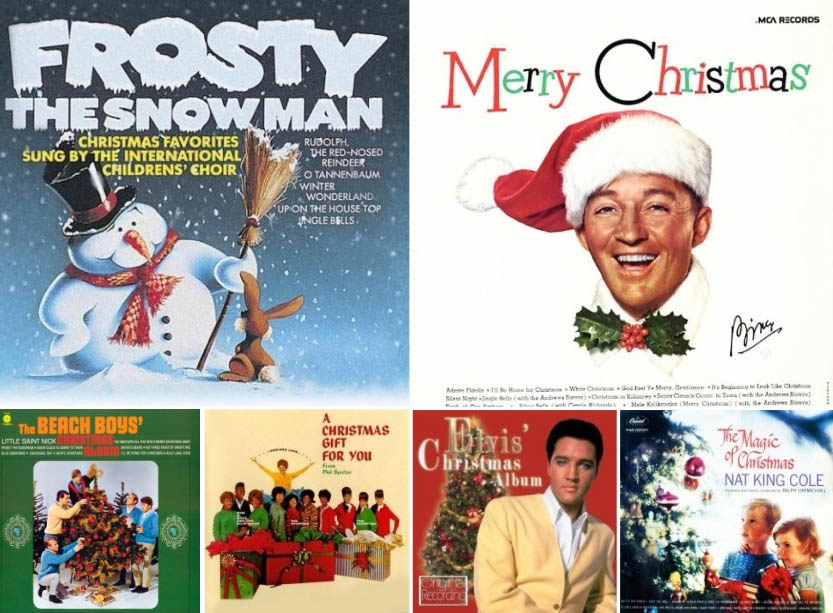 I'm sure everybody has their own personal favorites when it comes to Christmas albums and Christmas music. But there are certain recordings which stand out and have become classics in their own right, transcending the different musical tastes from generation to generation.
I chose some that are nearly impossible not to include on any individual's personal list. So here are my favorite Christmas albums in no particular order. The list has something for everyone, is designed to please children from 7 to 70, and get one and all in the Christmas Spirit…  Enjoy!
1. Frosty The Snowman – International Children's Choir & The Holly Players Orchestra (1990) The kids will love it and be entertained and occupied for hours. Great sing-along classics are featured like "Rudolph the Red-Nosed Reindeer," "Jingle Bells" and "Up On The House Top."
2. A Christmas Gift For You – Phil Spector – Featuring Various Artists (1963) Phil Spector's epic Wall of Sound production transforms these well-known holiday chestnuts into crowd-pleasing favorites. When you hear The Crystals" "Santa Claus Is Coming To Town" and The Ronettes' "I Saw Mommy Kissing Santa Claus," you long for that 60s sound.
3. A Motown Christmas – Various Artists (1973) Listening to Stevie Wonder's interpretations of "What Christmas Means To Me" and "Someday At Christmas," the Jackson 5 cover of "Frosty The Snowman" and The Supremes singing "Joy To The World" confirms Motown's claim to be "the sound of young America."
4. Elvis' Christmas Album – Elvis Presley (1957) At the tender age of 22, Elvis recorded his version of traditional Christmas carols as only the "king" could. With offerings like, "Santa Bring My Baby Back To Me," "Blue Christmas" and "Silent Night," Elvis put his stamp on every rendition.
5. The Beach Boys' Christmas Album – The Beach Boys (1984) "Little Saint Nick," became a hit for this surfer group even as they had already become established stars. Going from surfboards to sleigh bells, was an easy transition for Brian Wilson and company.
6. Soul Christmas – Various Artists (1991) Relying on what was known as 'Memphis Soul," Otis Redding's "Merry Christmas Baby," and Booker T. and The M.G's "Silver Bells," provide all the soul you can handle. Joe Tex, Solomon Burke, King Curtis and Clarence Carter also make contributions.
7. The Magic Of Christmas – Nat "King" Cole (1960) When you imagine someone singing the lyrics, "Chestnuts roasting on an open fire…" the ultra-smooth voice in your head belongs to the late great Nat "King" Cole. It's very possible that no one has ever left such an indelible mark on one song than Nat did with "The Christmas Song." Everyone else's version is a distant second. That golden voice and a glass of eggnog is all you need to get in the Christmas mood.
8. A Very Special Christmas – Various Artists (1987) Jimmy Iovine put together this all-star Christmas album to benefit the Special Olympics, calling on 1980s A-listers like Run-DMC, U2, the Pretenders, the Eurythmics, Stevie Nicks, Whitney Houston, Madonna, and Bon Jovi.
9. Merry Christmas – Bing Crosby (1945) Just how big is Bing Crosby? His recording of Irving Berlin's "White Christmas" still ranks as the biggest selling single of all time. Just how popular was the song? They pressed so many copies that the 1941 master of a radio performance wore out and they had to re-record the song from scratch. This music was originally released in 1945, the same year World War II ended, as a set of ten songs on five 78 rpm discs. Still the most popular version of this classic Christmas Carol.
10. Jackson 5 Christmas Album – The Jackson 5 (1970) Long before Michael Jackson became, "Michael Jackson," he was a member of the Jackson 5. As Jehovah's Witnesses, the Jacksons did not actually celebrate Christmas themselves, but Joe Jackson's sons pretty much sang what they were told to sing: a mix of secular seasonal standards mixed with a few originals. One of the highlights is the light-hearted "Up On The House Top," in which Tito asks Santa for a guarantee that his new guitar won't play out of key.
11. A Charlie Brown Christmas – Vince Guaraldi Trio (1965) Legend has it that Lee Mendelson, the producer of the "A Charlie Brown Christmas" TV special, discovered Vince Guaraldi Trio's music while riding in a taxicab. He tracked down the cool West Coast jazz ensemble who ended up composing scores for 16 Peanuts TV specials. And who can forget watching the special and hearing Charlie Brown and the gang's version of "Christmastime Is Here" and "O Christmas Tree? I think nobody.
12. Merry Christmas – Mariah Carey (1994) Mariah was 24 years old and hot enough to melt snow and ice when this album was released. It was a year after she married music mogul Tommy Mottola. Mariah's mega-selling Christmas album is one of the most commercially successful Christmas albums of all time. Filled with traditionals like, "Joy To The World and "Silent Night," she also added some of the best original Christmas songs ever recorded.
13. Christmas Interpretations – Boyz II Men (1993) Michael, Nathan, Shawn and Wayne's harmonies have never sounded richer than on their semi-acapella version of "Silent Night." This group's vocal harmonies are their calling card and they handed it out on every song.
14. Give Love At Christmas Time – The Temptations (1980) If you want Christmas music R&B style, there is no better album than this one where Eddie Kendricks, Dennis Edwards, Paul Williams, Melvin Franklin and Otis Williams deliver each song as an R&B classic. Don't miss their 6 minute semi-Gospel version of "Silent Night," it's one of a kind.
15. Christmas With The Rat Pack – Frank Sinatra, Dean Martin & Sammy Davis, Jr. (2002) Frank Sinatra is, was, and forever will be "The Chairman of the Board" and Dean Martin is of course second in command. But, Sammy Davis Jr. is the real star of this album. This multi-talented entertainer could do it all better than anybody. When he gets done tearing up "Jingle Bells," there's really no need for anybody else to sing the song ever again. So break out the cocktail shakers, call up some dames, and throw this disc on for a taste of Christmas in Vegas.
16. Home For Christmas – *NSync (2002) This is one of the finest Christmas albums ever made, with some of the best original Christmas songs ever compiled, featuring such gems as; "Merry Christmas, Happy Holidays," "I Never Knew The Meaning Of Christmas" and "I Guess It's Christmas Time." Along with their "*NSync" interpretations of traditional Christmas Carols like, "O Holy Night," "The First Noel" and "The Christmas Song," there's not a bad song in the bunch.
17. That's Christmas To Me – Pentatonix (2014) This fine collection of classic Christmas Carols sang by this acapella quintet is destined to become a holiday favorite. The title track is an original song that is instantly likeable and just right for the holiday season. "That's Christmas to Me" debuted at number 9 on the Billboard 200 and peaked at number 3 in its fifth week on the charts.The album also debuted at number 8 on the Billboard Canadian Top Albums chart. A single from the album, "Mary, Did You Know?" debuted on the Billboard Hot 100 at number 26 and on the Billboard Canadian Hot 100 at number 44.
By Otis Stokes