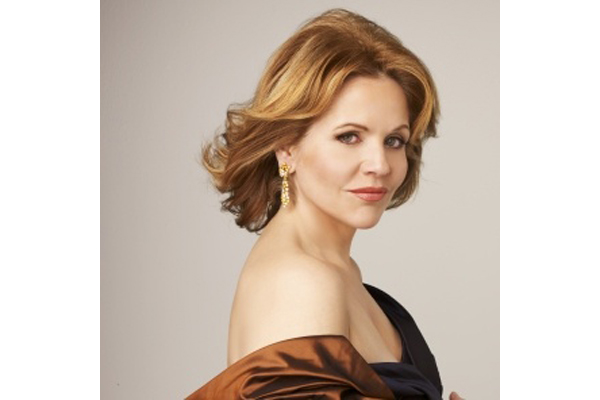 In American Voices with Renée Fleming, camera crews follow vocal masters, industry titans, and emerging artists as they gather at the Kennedy Center to celebrate, explore, and debate the legacy, landscape, and future of American singing. The special will air on THIRTEEN'S Great Performances Friday, January 9, 2015 at 9 p.m. (Check local listings.)
American Voices with Renée Fleming features highlights from the festival's unique performances and educational events. During six master sessions, fledgling artists received personal one-on-one mentoring from iconic singers in a variety of genres: Eric Owens in classical, Dianne Reeves in jazz, Alison Krauss with Dr. Thomas Cleveland in country, Ben Folds and Sara Bareilles in pop, Sutton Foster in musical theater, and Kim Burrell in gospel.
Joining these acclaimed artists for the genre-spanning festival centerpiece, the American Voices Concert, were Kurt Elling, Josh Groban, Norm Lewis, and the National Symphony Orchestra conducted by NSO Principal Pops Conductor Steven Reineke.
Throughout the weekend, three sessions programmed by Fleming on "Care of the Professional Voice," "Trends in the Business and Technology of Popular Music," and "Voice Training in the 21st Century" will be presented in the Kennedy Center Atrium, intended both for music professionals—including singers, vocal coaches, teachers, agents, producers, and doctors who treat singers—and for all fans of great singing.
American Voices with Renée Fleming is produced for the Kennedy Center by RadicalMedia, and directed by Paul Bozymowski; Justin Wilkes and Sara Enright are producers, with Renée Fleming, Garth Ross, Jon Kamen, and Joe Killian as executive producers. For Great Performances, Bill O'Donnell is series producer and David Horn is executive producer.
Visit Great Performances Online at www.pbs.org/gperf for additional information about this and other programs.