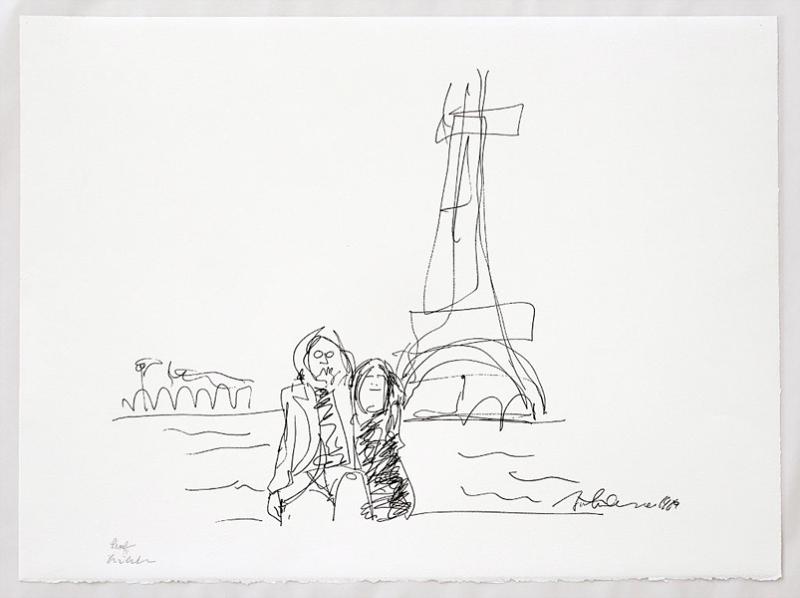 Prints of three of John Lennon's rare archival sketches from the Bag One Arts program – I'm One of Your Biggest Fans, The City in My Heart and Happy Xmas– will be released through exclusive exhibitions in key cities across the United State beginning this December, including Los Angeles, Calif. and Las Vegas, Nev.  The announcement was made today by Yoko Ono and Epic Rights' CEO Dell Furano.
John Lennon's artwork celebrates human love and communication – two themes at the heart of his contribution to the art of the twentieth century.  His iconic Self-Portrait image has become the cornerstone of the collection. Offered through the Bag One Arts program, these posthumous, limited edition prints are adapted from Lennon's original drawings. 
The art has been selected from rare archival sketches and is representative of his whimsical and thought provoking imagery.  Each print is reproduced utilizing the sophisticated and detailed standards typical for archival fine art printing processes, guided, approved and hand-signed by Yoko Ono.
The City In My Heart (Eiffel Tower) depicts a romantic memory of John and Yoko's honeymoon in Paris.  I'm One of Your Biggest Fans reflects his penchant for witty commentary when greeted by fans.  The Happy Xmas tree celebrates peace and the powerful message of Happy Xmas (War Is Over). The Bag One Arts exhibition opens in Los Angeles at Legacy Fine Art (101 N Robertson Blvd.) on December 12th – 14th and in Las Vegas on December 5th at AFA Gallery at The Fashion Show Mall.
"Introducing the Bag One Arts program through this unique exhibition continues to honor John's legacy," said Ono. "The teams at Bag One Arts and Epic Rights have exceeded my expectations both in terms of the quality of the prints and their passion in organizing the exhibitions. On a personal note, I'm especially proud to share John's The City in My Heart print, created during our honeymoon."
"We're all very excited to bring Lennon's distinct and imaginative artwork to the general public, sharing his artistic vision and underscoring his powerful message of love, peace and humanity," said Epic Rights' Furano.  "My personal favorite, Happy Xmas, is particularly poignant at this time of year."
In his art, John Lennon, the legendary musician, songwriter, poet, philosopher and artist, delivered a consistent message – peace and love.  Art was actually his first love, as he began drawing long before he owned a guitar.  He attended the prestigious Liverpool Art Institute (1957-1960).  He continued to draw throughout his life.  Lennon's primary medium was line drawing, either in pen, pencil, or Japanese sumi ink.  His drawings became illustrations for three bestselling books: In His Own Write (1964), A Spaniard in the Works (1965) and Skywriting By Word of Mouth (1987).
In addition, a complete suite of the Bag One portfolio of lithographs resides in the permanent collection of the Museum of Modern Art in New York.  The graphic collection has traveled throughout the U.S., England, Spain, Italy, Japan, Australia, New Zealand, South Africa, Hong Kong and Manila.  For more information about Lennon's Bag One Arts exhibitions, visit http://johnlennonartwork.com