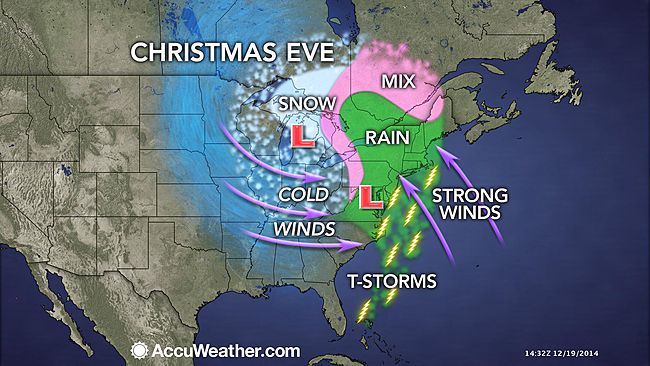 Santa not only brought presents under the tree, but a storm from the sky. AccuWeather reports as the train of storms from the Pacific Ocean continues, rounds of rain and mountain snow will fall on areas from the Northwest to the Intermountain West and Rockies through Christmas Day. A strong storm will affect the Northwest this weekend with gusty winds, heavy low-elevation rain and high-elevation snow.
A second storm will roll ashore on Tuesday with falling snow levels in the Northwest and heavy snow farther inland in the West.
According to AccuWeather Meteorologist Brian Lada, "The worst conditions this weekend will hit from the Cascades to the Pacific coast."
The storm bearing strong winds, heavy snow, torrential rain, thunderstorms and fog will converge on the Northeast and Midwest on Christmas Eve and will likely create major travel delays, both on the roads and at airports.
The early stages of travel problems from patchy rain and fog will develop on Tuesday. The most widespread travel disruptions and the worst weather conditions in terms of windswept rain and travel-impairing snow will be centered on Christmas Eve.
Now the question is, will you fly or will you drive?