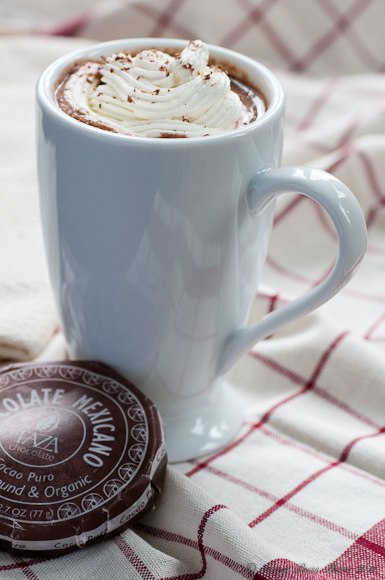 A steamy mug of homemade hot chocolate on a cold wintry night warms the body and soul.  While it's a beverage that conjures up childhood memories, this is not your typical kid version.
Spiced Mexican Hot Chocolate, created by food and travel writer Gwen Pratesi – www.bunkycooks.com – is wonderfully rich and creamy.  More like a dessert cocktail, it combines rustic stone ground organic chocolate of 70% cacao and raw sugar, with the subtle sweetness and spice of raw honey crème whipped with cinnamon, clove and nutmeg.
Now here's the adult part:  spike it with a shot of fine aged mezcal or rum.  Gwen also recommends freshly whipped cream and shaved chocolate for a festive frothy finish.
What You Need:
2 cups milk
2 ounces best quality Mexican stone ground organic chocolate (Gwen likes Taza), chopped into small pieces
Pinch of salt
1 generous tablespoon Spiced Honey Crème*
Optional:  1.5 ounce shot of fine aged mezcal or rum
Garnish:  fresh whipped cream, shaved chocolate
What To Do:
In a heavy medium saucepan, combine milk, chocolate, pinch of salt and honey crème. Heat, stirring frequently over medium-low heat with a whisk, until chocolate has melted, honey crème dissolves and the milk is very hot, about 10 minutes.   Pour hot chocolate into a tall mug or 2 smaller cups.  If you like, add mezcal or rum spirit.  Top with fresh whipped cream and shaved chocolate. Serve immediately.
*Spiced Honey Crème is produced by Honey Ridge Farms, a family-owned company with five generations of beekeeping experience. The honey is ourced from family and a small circle of Pacific Northwest beekeepers.  Only superior local USA honey is used and can be traced back to its origin. www.honeyridgefarms.com