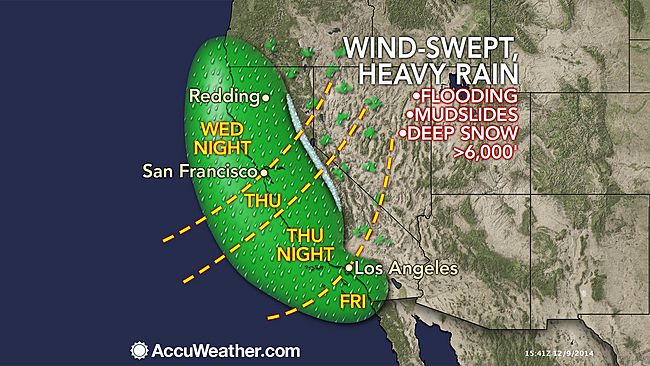 According to The National Weather Service, California could see "one of the strongest storms in terms of wind and rain intensity" in years. AccuWeather reports the strongest storm so far this season and perhaps in several years for California will bring drenching rain to hard-hit drought areas, along with the risk of damaging winds, flooding and mudslides later this week.
The train of December storms will continue to roll along over the Pacific Ocean and into the West Coast of the United States this week. Rainfall from this single storm could approach the average rainfall for the entire month December in some areas. In some cases, this has the potential to be biggest single rain-producer about 10 years.
The most potent storm in the train will deliver millions of gallons of water per square mile on much of California during the second half of this week.
"There is plenty of moisture for this storm to tap," said AccuWeather.com Western Weather Expert Ken Clark. "And this is why it will be such a soaking rain."
So far this month, Los Angeles has received 1.33 inches of rain.