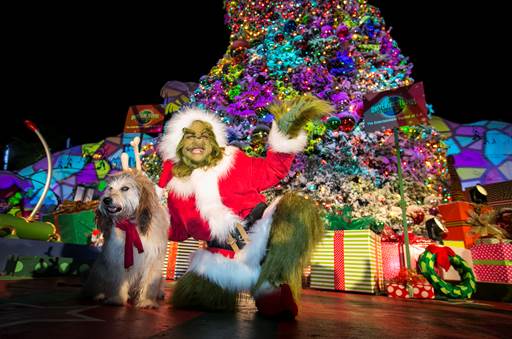 Universal Studios HollywoodSM and Universal CityWalk® deck the halls for a wintry calendar of cool holiday activities at The Entertainment Capital of L.A.SM
A very, merry "GrinchmasTM" returns to Universal Studios Hollywood as the theme park celebrates the Who-lidays with The Grinch, his faithful dog Max and a roster of Whos from the town of Who-ville.
"Grinchmas" runs weekends on December 6-7 and 13-14, then continues daily from December 19, 2014 through January 3, 2015.
The Universal Plaza, an elaborate grand piazza at the heart of the theme park, will serve as the backdrop for the lighting of the towering "Grinchmas" tree – a whimsical centerpiece twisting and spiraling 60 feet above visitors and providing the ideal setting for merry holiday making memories, while The Grinch, his adorable dog Max and the Whoville Whos entertain guests nearby with fun-filled photo opportunities.
As part of the fab-Who-lous event, Martha May Who-vier and the Who Dolls will take center stage by the "Grinchmas" tree performing energetic musical sets to usher in the Christmas season in style.  The Wholiday Singers—a hip boy-band ensemble—will perform nightly a cappella concerts featuring a mix of Christmas favorites and pop rock.
The spirited "Grinchmas" event will also capture guests' imagination with a variety of inspiring activities designed to create long lasting memories. These include:
Who-ville Post Office – Visitors will have a chance to partake in the "Grow Your Hearts 3 Sizes" campaign when they share their good deeds on a postcard and mail them to The Grinch. In return, Random House Children's Books, the publishers of Dr. Seuss's How the Grinch Stole Christmas!, will pay it forward by donating a book to a child in need through First Book on behalf of the sender.
Trim up the Tree Lot– Guests can design and personalize their own "Grinchmas" ornaments to help decorate the venue's other "Grinchmas" trees or take them home as a keepsake.
Who-bilicious Cookie Dec-Who-rating– Freshly baked, ginger bread cookies will be available for purchase, and guests can create their very own amazing treats with an assortment of delectable frostings and tasty toppers.
Story Time with Cindy Lou Who – Cindy Lou Who and her Who friends will gather guests of all ages – tall and small—for an engaging storytelling show of Dr. Seuss' How the Grinch Stole Christmas, featuring special effects and audience participation.
Aboard the world-famous behind-the-scenes Studio Tour, fans of the blockbuster film, "Dr. Seuss' How the Grinch Stole Christmas," will have the chance to enjoy a close-up view of the original Who-ville film sets and a one-of-a-kind performance by unforgettable Who-ville Whos re-enacting popular scenes and songs from the family favorite.
"Grinchmas" is included in the price of theme park admission.  More information is available at www.UniversalStudiosHollywood.com.