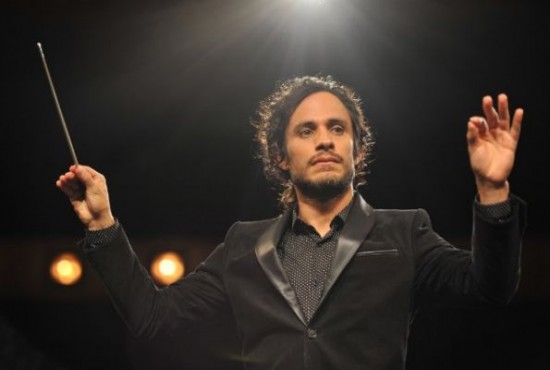 In holiday vacation TV binge mode? Amazon has released all ten episodes of the highly-anticipated dramatic comedy series Mozart in the Jungleare now available on Prime Instant Video in the US, UK and Germany.
Starring Gael Garcia Bernal (Rosewater), Saffron Burrows (Agents of S.H.I.E.L.D.), Hannah Dunne (Frances Ha), Lola Kirke (Gone Girl), Malcolm McDowell (The Mentalist) and Peter Vack (I Just Want My Pants Back), Mozart in the Jungle draws back the curtain at the New York Symphony, where artistic dedication and creativity collide with mind games, politicking and survival instincts. The series guest stars Bernadette Peters (Smash), and is Executive Produced by Roman Coppola (Moonrise Kingdom), Jason Schwartzman (The Darjeeling Limited), Paul Weitz (About a Boy), and John Strauss (There's Something About Mary).
Amazon Prime members can now watch all ten episodes of Mozart in the Jungle on their TVs using the Amazon Instant Video app on Fire TV, Roku, Xbox, PlayStation, Wii, and smart TVs. They can also use the Amazon Instant Video app to watch on mobile devices, including Fire tablets, Fire phone, iPad, iPhone, iPod Touch, as well as hundreds of other connected devices—or customers can visit Amazon.com/PIV to watch online. Prime members can add Mozart in the Jungle to their Watchlist and easily access new episodes. Customers who are not already Prime members can sign up for a free trial at www.amazon.com/prime.
Based on the critically acclaimed memoir Mozart in the Jungle: Sex, Drugs & Classical Music by Blair Tindall, Mozart in the Jungle is seen through the eyes of a young oboist, Hailey (Kirke), who tries to navigate through the egos and eccentricities of the renowned New York symphony, and new conductor Rodrigo (Bernal), an enfant terrible whose passion for music threatens the plans of the orchestra's old guard. That old guard is represented by Thomas (McDowell), the reluctantly outgoing conductor, and Gloria (Peters), the chairwoman of the board, who wonder what they have wrought by bringing Rodrigo into the fold. The musicians themselves, a colorful family of disparate personalities, are struggling to deal with this new regime. Along with her friends Alex (played by Vack), a dancer on the brink of success, Cynthia (Burrows), a worldly cellist, and Lizzie (played by Dunne), a world class partier, Hailey searches for what it means to dedicate your life to music.
"We're thrilled to be working with a great team bringing to life this fascinating world," said Roy Price, Vice President, Amazon Studios. "The remarkable talent in front of and behind the camera have shepherded a story of passion and dedication that we hope will resonate with our customers."
Other guest stars in Mozart in the Jungle include Debra Monk (Damages) as Betty, Wallace Shawn (Gossip Girl) as Winslow, Mackenzie Leigh (General Hospital) as Addison, Nora Arnezeder (Safe House) as Ana Maria, Jerry Adler (The Good Wife) as Lazlo, John Hodgman (Arthur) as Marlon, and Santino Fontana (Frozen) as Mozart. The series is co-Executive Produced by Alex Timbers, and Produced by Michael Zakin and Caroline Baron. Weitz and Coppola directed episodes, along with Bart Freundlich, Adam Brooks, Daryl Wein, Tricia Brock and Daisy Mayer.