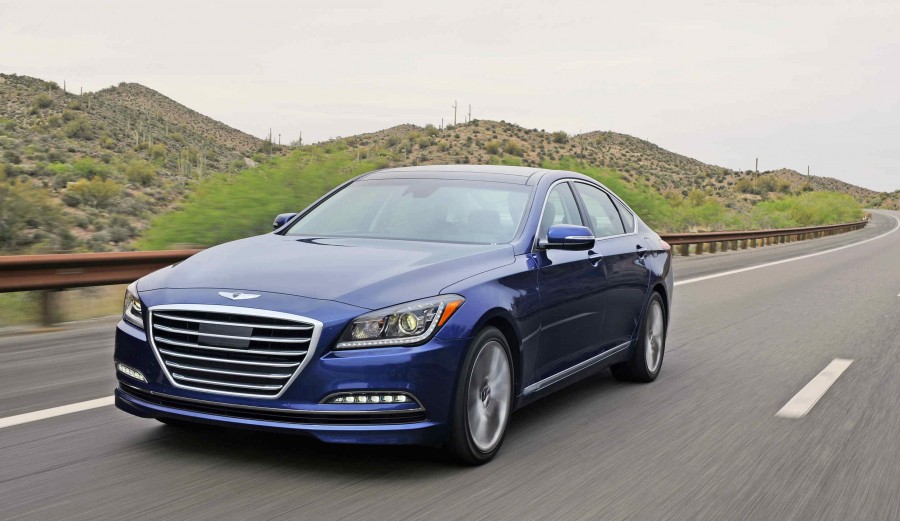 The 2015 Hyundai Genesis was named the 2015 AutoGuide.com Car of the Year for its exceptional value, drive quality and design. 
"The Genesis impressed us with high-quality interior materials, refined driving dynamics and dramatic exterior styling that elevates the Hyundai brand as a whole," said Luke Vandezande, AutoGuide.com managing editor. "More than a great car, the 2015 Genesis is a great luxury car."
The AutoGuide.com Car of the Year committee evaluated new or significantly refreshed vehicles for the 2015 model year. AutoGuide.com editors crowned Genesis the winner among the finalists including the Audi A3, Ford Mustang, Subaru WRX STI and Volkswagen GTI. Genesis was selected not only for its exceptional value, but also its impressive options at every engine type, including the available 5.0 liter V8.
"Earning the AutoGuide.com Car of the Year for Genesis means that the all-new model has the stamp of approval from some of the auto industry's most esteemed road test editors," said Mike O'Brien, vice president of corporate and product planning, Hyundai Motor America. "The Genesis continues to rise above for its smooth drive and handling, high safety ratings, design and value."
The AutoGuide.com Car of the Year award continues an amazing run of high-level recognition for the Genesis, making it one of the most acclaimed vehicles on the road today. Genesis recently was named a finalist for the prestigious North American Car of the Year, with the winner being announced at the upcoming North American International Auto Show in Detroit. The 2015 Genesis also was recognized as ALG's Residual Value Awardwinner in the Premium Full-Size Car segment for being projected to retain the highest percentage of its original price after the typical ownership period of three years compared to competing models.