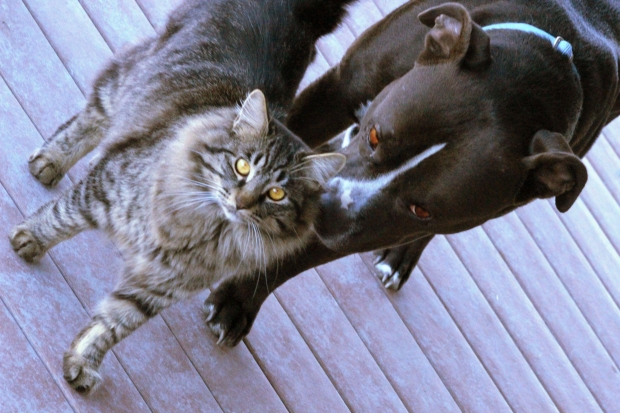 The holiday season is a time to surround yourself with loved ones—and pets are no exception. Through Blue Buffalo's Home 4 the Holidays campaign, the company announced the initiative reached this year's holiday goal of finding a forever home for one million deserving dogs and cats throughout the world. In celebration of reaching this year's goal, an adopting family will be gifted with a one-year supply of Blue Buffalo product for their new pet and the participating shelter will receive 2,500 pounds of food.
"I can't think of a more amazing holiday gift—already reaching our goal of finding homes for one million orphan pets, so soon after we kicked off this year's Home 4 the Holidays campaign," said David Petrie, Vice President at Blue Buffalo. "We are extremely grateful that a million new pet parents will experience the joy of rescuing a dog or cat this holiday season, and share in the love we have for our pets all year long."
More families bring home new pets during the holiday season than any other time of year. With so many homeless pets across the country, Blue Buffalo partnered with the Helen Woodward Animal Center for the Blue Buffalo Home 4 the Holidays campaign. Home 4 the Holidays is a three-month adoption drive that aims to save the lives of orphan pets and raise awareness about the importance of pet adoption during the holiday season. Blue Buffalo and the Helen Woodward Animal Center's partnership created a coalition of more than 4,000 pet adoption agencies, facilities and rescue groups – each eager to find welcoming homes for a new, furry family member.
Blue Buffalo Home 4 the Holidays strives to educate the public about the importance of choosing pet adoption. The partnership of Blue Buffalo, the Helen Woodward Animal Center, and the score of participating pet shelters and adoption centers has helped make Home 4 the Holidays the largest pet adoption program on record. The program has helped save more than nine million pets since its inception in 1999.
Like Blue Buffalo on Facebook or follow @BlueBuffalo on Twitter to meet the faces of the one millionth pet adoption – the pet and its brand new family – later this month.  More information about the shelter involved in finding this pet a home will also be shared.