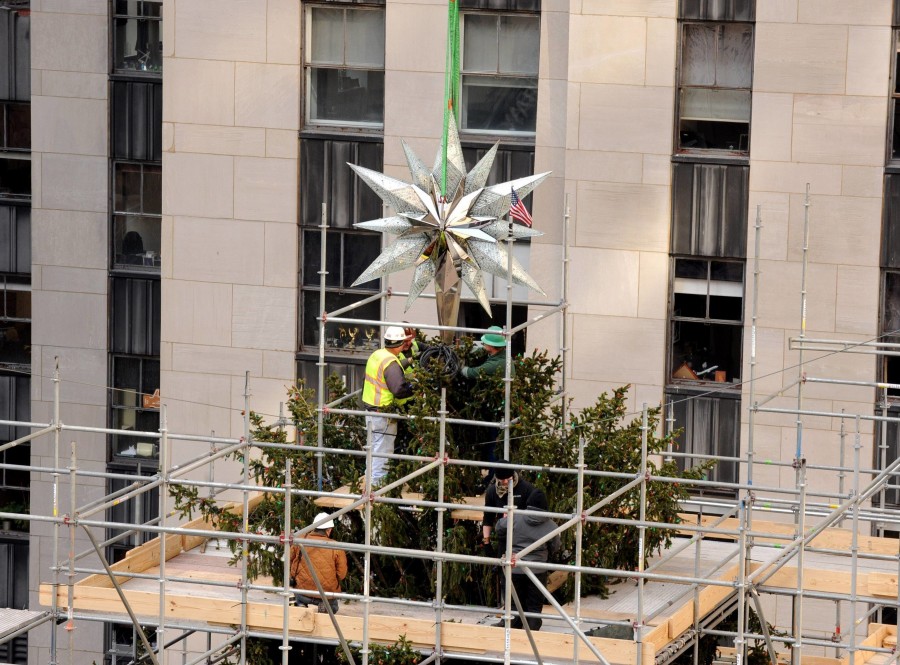 Swarovski raised the Swarovski Star to the top of the world-famous Rockefeller Center Christmas Tree. The Star will sit atop the 85-foot high, 46-foot wide, 13-ton Norway Spruce, where it will stay for the remainder of the 2014 holiday season.
The Swarovski Star is comprised of 25,000 crystals, with 1,000,000 facets, measuring 9 ½ feet in diameter and 1 ½ feet deep. The Star weighs 550 pounds, including 300 pounds of crystal panels, and is composed of six outer rays and six smaller inner rays.
The main surfaces of the rays are made of point-mounted safety glass which is the same shatter-proof glass that adorns the facades of New York City buildings.  The crystals are affixed to the inner sides of the glass in a tight, scale-like pattern to ensure maximum brilliance. The Star is illuminated by 720 energy-efficient LED bulbs on 3,000 feet of wire.
A team of nine artisans spent 1,200 hours installing, programming and testing the Star to ensure the effects would withstand the challenging winter weather conditions sitting 85-feet above Rockefeller Plaza. A to-scale replica of the Swarovski Star will also be on display in Rockefeller Center to allow visitors the opportunity to get a closer view of the detailing and craftsmanship.
"For more than a decade the Swarovski Star has topped the Rockefeller Center Christmas tree, adding brilliance and sparkle to an iconic holiday tradition," said Wayne Page, senior vice president of Swarovski North America Limited's Consumer Goods Business. "We are proud to continue this partnership and look forward to a bright holiday season for all."
Originally created for the Rockefeller Center Christmas tree in 2004, the Star was updated in 2009 to feature its dynamic light movement. Over the past ten years the Star has been unveiled by celebrities including Olivia Wilde, Blake Lively, Fergie, Christie Brinkley, Maria Menounos and Nadja Swarovski.      
Swarovski will offer a selection of holiday jewelry and ornaments for purchase at the Swarovski holiday kiosk at Rockefeller Center, at Swarovski boutiques nationwide and online at Swarovski.com.