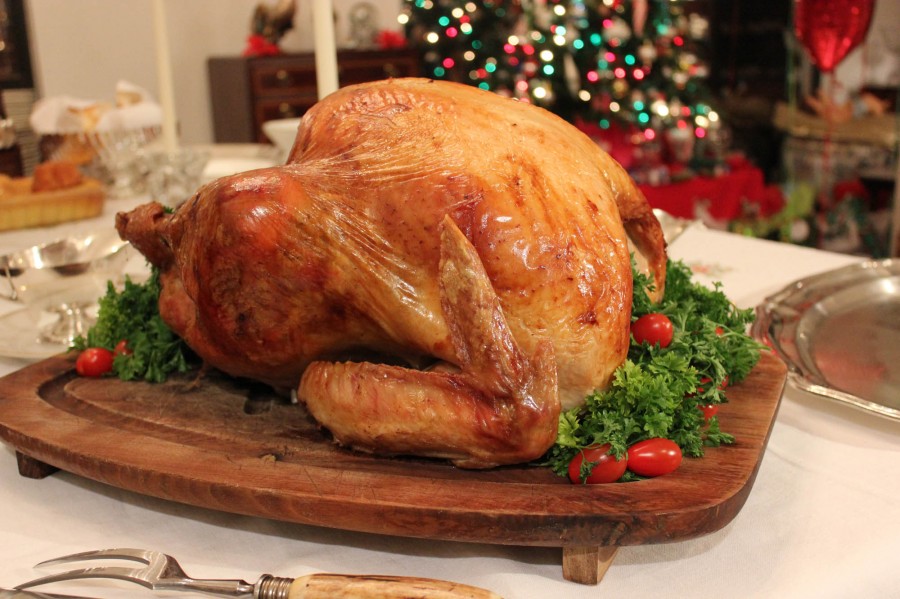 The main course on all holiday tables across America… the turkey. There are a few ways to cook this big bird. Here are two choices. The first is roasted and the second is fried…
What You Need:
1 (18 pound) whole turkey
1/2 cup unsalted butter, softened
 salt and freshly ground black pepper to taste
1 1/2 quarts turkey stock
8 cups prepared stuffing
What To Do:
Preheat oven to 325 degrees F (165 degrees C). Place rack in the lowest position of the oven.
Remove the turkey neck and giblets, rinse the turkey, and pat dry with paper towels. Place the turkey, breast side up, on a rack in the roasting pan. Loosely fill the body cavity with stuffing. Rub the skin with the softened butter, and season with salt and pepper. Position an aluminum foil tent over the turkey.
Place turkey in the oven, and pour 2 cups turkey stock into the bottom of the roasting pan. Baste all over every 30 minutes with the juices on the bottom of the pan. Whenever the drippings evaporate, add stock to moisten them, about 1 to 2 cups at a time. Remove aluminum foil after 2 1/2 hours. Roast until a meat thermometer inserted in the meaty part of the thigh reads 180 degrees F (80 degrees C), about 4 hours.
Transfer the turkey to a large serving platter, and let it stand for at least 20 to 30 minutes before carving.
Fried Turkey
NOTE: Never attempt to do this inside your home or garage. It is very dangerous.
What You Need:
12-14 pound turkey
16 ounces of Cajun Injector® Marinade (easy to mix with water. Sold in super market)
Cajun Injector® Cajun Shake seasoning.
The fryer with Peanut cooking oil – The quantity of Peanut oil to use is usually indicated on the cover of the fryer. Please make sure that you respect the direction or you could burn yourself seriously.
Proponane Fuel and a thermometer.
What To Do:
First, wash your turkey under very warm water. Make sure all water is drained from breast cavity before deep-frying. Heat 3-4 gallons of peanut oil to 350°F.  
Inject turkey with approximately 4 ounces of marinade into each breast and 2 ounces into each drumstick and thighs. Insert injector at an angle. Push plunger down slowly. Use about 16 ounces of marinade per turkey. When oil has reached 350°F very slowly lower the turkey into the oil. Use of cooking mitts is highly recommended for lowering and raising fry basket out of oil.
Deep-fry whole turkey at 3-1/2 minutes. Do not leave the turkey unattended. When it has reached a golden to brown color, the desired cooking time has been achieved, raise the turkey slowly and allow excess oil to drain on paper towel. Let it rest for at least 20 minutes. ENJOY YOUR DELICIOUS TURKEY!